By Angali Hosein
November 04, 2021 – newsday.co.tt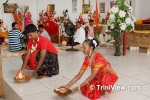 Sitaram and Shubh Divali to the Hindu community and to my beloved country, Trinidad and Tobago. Divali or Deepavali translates to a row of lights or festival of lights and bears a great significance in Hindu culture as it emphasises light over darkness as well as good over evil. Thus, the auspiciousness of this day brings me feelings of joy, happiness and love, which I try my best to share with those around me.

To Hindus, darkness represents ignorance, and light a metaphor for knowledge. Therefore, lighting a lamp symbolises the destruction, through knowledge, of all negative forces – wickedness, violence, lust, anger, envy, greed, fear, injustice, oppression and suffering. At my home on Divali day and sometimes the day after, we light deyas in every corner of our premises to make our surroundings filled with light and to make it cheerful and beautiful.
On a more personal level, Divali is a time where I turn inward and light the lamp of knowledge and truth in my heart and mind so that I can dispel the forces of darkness and ignorance within myself and allow my innate brilliance and goodness to shine forth. It is a time when I reflect on and evaluate my thoughts, words and actions over the past year so that I begin the process of transforming myself.
Full Article : newsday.co.tt