By Raffique Shah
October 18, 2021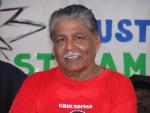 It saddens me to write what I am about to, but it's harsh reality that we must face and fight, or, if we are the unpatriotic cowards many believe we are, then we might consider joining millions of others across the world who abandon all hope in their native lands and become refugees, moving like nomads anywhere the wind and fellow-refugees take them.

Less than four years ago, we looked with great contempt garnished with a little pity as thousands of Venezuelans, supposedly fleeing Nicolas Maduro and a collapsing Venezuela, made their way to our country to seek better lives. They came in leaking pirogues, in crates-turned-into-rafts, every means available to them. Today, we stand where they did then. Just let one group of dissidents, fed up with potholed-roads or dry WASA taps, start the exodus, put some fellow-remote villagers who are upset over losing their homes or jobs in the heat of the Covid crisis, load them on some excuse-for-a-boat and head for Guyana, and all the major media houses in the world will break off from the Mexico-US border, abandon Afghanistan and Myanmar, and before you remember what cheese tasted like, Trinis on Time magazine covers!
I tell you, if there is a country that has a death wish, where the population, or one-half of it at any given time, is eager to see it implode, its economy collapse, its people pushed into poverty, its institutions fail, it is Trinidad and Tobago. I watch with shame and increasing alarm as large numbers of Trinis invite misery to join their sorry selves and help tip this once-prosperous small-island-state into the abyss of failed states. Even more ominous, they seem to think nothing of prodding the mass of mongrels into canine madness, like some fictional horror-species leaping out from Stephen King's most chilling novels, into war against anyone who dares to think differently from them.
The bold charges I level here are likely to be labelled cheap unscientific fiction, especially by those who carry the whistles to set the dogs loose. I assure readers that I have not taken leave of my senses. I have observed the strategic deployment of agents provocateur, the lies that have been sugar-coated to look like the truth that they have systemically spread on social media and by word of mouth in communities they control, and the way they have fomented unrest, using half-truths to pollute minds that are already primed, mindlessness with short fuses and powerful detonators.
The stage is set for anarchy. Guns that seem to be coming into this country by containers, and ammunition by ship-loads, can be seen, heard, and yes, felt as they strike targets almost at will, in broad daylight, on busy streets.
In the event you haven't noticed, we are already at war-a campaign that is waged by unseen hands, faceless puppeteers who think nothing of reducing this country to utter chaos. Note that I have refrained thus far from commenting on the charade that's playing out in the courts, in Parliament, in secret chambers where plots are hatched. I have watched as my colleagues in the media and bright commentators have fallen for the unprocessed sewage that is perfumed to disguise the stench.
Let me tease your brains for just a bit. For how long have those who are in authority known that Gary Griffith's contract as Commissioner of Police was due to expire, and what they needed to do to ensure that the transition was smooth? I should think three years, at least. For how long did attorneys who are queuing up to challenge the process, which they 'stumbled' on when Griffith was named 'acting commissioner', presenting an open, easy target for any two-bit attorney, how long have they known of the flaws in the law? Hell, think, man, think. They will not only have known of the loopholes, but many of them were members of Parliament who studied the laws when they were in Bills form, hence they were architects of the flaws. Sounds familiar? That's because they are familiar.
So now they expect to tie up the appointment of a new commissioner in courts from here to London for years, then crow that the Police Service is headless, brainless, bruised and useless. And by curious coincidence, a spate of daylight shootouts has erupted, making it appear that the country is ungovernable.
Institutions like the TTPS, the armed forces and even the public service are so structured that they can and do function seamlessly smooth, whoever may be missing from the head table. The commander is killed, the second-in-command or third moves up…and the body stays intact. There is no crisis. Or, if there is one, it lies in the laps of the devious politicians who manufactured it, and who expect to benefit from it. Nuff said.