PM to assist neighbours hit by Tomas but…
By Ria Taitt
November 01, 2010 – trinidadexpress.com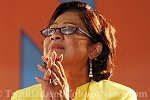 No help for Caricom countries hit by Tropical Storm Tomas without benefits to Trinidad and Tobago.
This was made clear by Prime Minister Kamla Persad-Bissessar yesterday.
She said Trinidad and Tobago stands ready to assist its Caricom neighbours but she stipulated that any aid would only come after discussions with her Cabinet colleagues as well as the Opposition Leader, and must in some measure benefit the country.

Speaking at a news conference at the Diplomatic Centre in St Ann's, Persad-Bissessar said she has received a call from the Prime Minister of St Vincent while Foreign Affairs Minister Suruj Rambachan had been in contact with his counterparts in Barbados and St Lucia, territories in the region which have been hit by Tomas.
She said she intended to speak to her Cabinet colleagues as well as the Leader of the Opposition to see what relief this country could give to the other Caribbean islands.
"We will have to look at ways in which we would be able to assist. But you would recall my comments earlier this year, when I said there must some way in which Trinidad and Tobago would also benefit. So if we are giving assistance with housing for example, and that is one of the areas that we (Prime Minister of St Vincent and myself ) spoke about, … then we may be able to use Trinidad and Tobago builders and companies, so that whatever money or assistance is given, redounds back in some measure to the people of Trinidad and Tobago," she said.
Full Article : trinidadexpress.com