By Nalinee Seelal and Corey Connelly
October 10 2010 – newsday.co.tt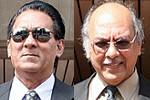 After weeks of speculation, Attorney General Anand Ramlogan yesterday signed an extradition order granting the United States Government the permission to extradite businessmen Steve Ferguson and Ishwar Galbaransingh to the United States to answer fraud charges.

The men, who were UNC financiers, face a total of 95 charges relating to the construction of the controversial $1.6 billion Piarco Airport Terminal building.
The decision by the AG came following recommendations for the extraditions by both the US Government and this country's Director of Public Prosecutions (DPP) Roger Gaspard.
On September 23, the AG received a list of recommendations from the US Government, which had clearly stated reasons why the two men should face trial in that country.
Six days later, Gaspard also sent his advice to the AG which effectively paved the way for the extraditions of Ferguson and Galbaransingh.
Attorneys for the two men are expected to visit them at the Golden Grove Prison in Arouca today to inform them of Ramlogan's decision.
The People's Partnership Government had come under fire from several quarters for its perceived hesitance in decisively addressing the longstanding matter.
Ramlogan, who is constitutionally charged with the responsibility and statutory duty to decide extradition requests, had said, though, that the matter was delicate and could not be rushed.
Sources yesterday revealed that the extradition could take place as early as today.
Full Article : newsday.co.tt
***
…Ish, Steve extradited to US for trial