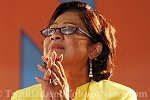 PRIME MINISTER Kamla Persad-Bisssessar announced that Government will establish a commission of inquiry to find who and what were responsible for the fiasco at CL Financial subsidiaries Clico, British American and Clico Investment Bank. Below is the Prime Minister's full statement in the House of Representatives on Friday:

The CL Financial crisis is, perhaps, one of the largest failures in our country's history; financial failures. We believe that it is important to reiterate and re-emphasise the magnitude and systemic exposures that may arise from this crisis, as well as some of the factors which contributed to this fiasco, based on our understanding to date. May I say, we continue to gain more and more information as time unfolds daily.
In January 2009, the Central Bank of Trinidad and Tobago intervened and placed the distressed financial institutions of the CL group under section 44D control. These institutions included Clico, CIB and British American. The decision to intervene was taken due to requests by the CL group for substantial Government and Central Bank support for what was then described as a temporary liquidity problem.
In this current economic environment, given the extent of the significant debts owed by the CL group, the problem was obviously not a temporary one. There was a much deeper and wider problem of solvency in the group's financial institutions, where debts exceeded available assets and where inter-company borrowing left the financial institutions with significant receivable balances due from CL, but for which there was and is insufficient freely available assets available within the group to repay Clico, BAT and CIB.
It is our view that the former administration grossly and completely mismanaged the Clico matter making it into the crisis it is today. By their misguided misinformed actions, they clearly had no solution to the matter.
We now know that the then government was blinded by personal interest in Clico and they lacked the capacity to properly diagnose the crux of the problem facing Clico. More than that, recent disclosures in a private matter before a domestic court in the High Court, reported in the newspapers locally, revealed evidence of concern raised six years ago about the stability of CIB. It is alleged that one of the directors of CIB at the time was a gentleman who subsequently became a Minister in the Ministry of Finance under the previous government. By their incompetency, they added to the tragedy of what Clico now means to this country.
More than that, they pumped billions of dollars in what appears to be in a blind manner, into a situation in which they had not the slightest clue of how to handle it. What the results show is that they were acting out of their league. They wasted $7 billion in Clico which passed through Clico in the proverbial "dose of salts" manner. Their actions signified nothing and, clearly, did not accomplish anything for our citizens in spite of that seven billion of taxpayers' dollars being wasted there.
If we focus on insurance entities of Clico and BAT, it was clear that these companies shifted their marketing focus away from the traditional long term insurance business, and they began to sell Executive Flexible Premium Annuities (EFPAs) which you are reading about. So they moved away from their core business and went into their non-traditional insurance business—went into the EFPAs. In Clico's case, they also marketed and guaranteed the principal and interest on the mutual fund. The maturities on the EFPAs and mutual fund were typically three to five years, but some were short as one year.
The interest rates offered and paid on these products ranged from eight percent to nine percent on average and for very large sums which were invested, the rates went as high as 13 percent. By comparison, information published by the Central Bank revealed that the weighted average interest rate on deposits invested with commercial banks range from 2.88 percent to 3.14 percent, between 2006—2008. So, here it is, a very high interest rate—one would say an unreasonable interest rate—was being offered to persons to induce them to come in to invest in these programmes that they had, whilst the going rates were 2.88 per cent to 3.14 percent weighted average interest rate as compared to eight percent, nine percent and 13 percent.
These companies raised enormous amounts of cash from the sale of these products because Clico's rates were obviously significantly higher than what was prevailing on the market rate for investment of similar duration. So much money was raised from the sale of these products that EFPA and mutual fund liability owed to 25,000 Clico and BAT customers equal $12 billion as of June, 2010 which was twice the size of the $6 billion owed to the 225 traditional long-term life insurance policyholders.
Another important element of the crisis that has not been sufficiently highlighted is that approximately $10 billion of the $12 billion EFPA and mutual fund liability is due over the next 18 months, that is to say in the short term. The $12 billion liability includes approximately $10 billion owed to individuals; $600 million owed to credit unions and trade unions; and $1.1 billion owed to corporations.
Additionally, when one considers the taxpayers' exposure to Clico and other distressed CL Financial entities, it is also important to know that Government owned corporations have also invested approximately $300 million in Clico and in BAT EFPAs.
Separately, state-owned companies NIB and NGS also invested approximately $1.7 billion in CIB. As such, the State and therefore the taxpayers are directly exposed to CL Financial Group institutions by way of impaired investments that amount to approximately $2 billion.
http://www.newsday.co.tt/politics/0,128530.html