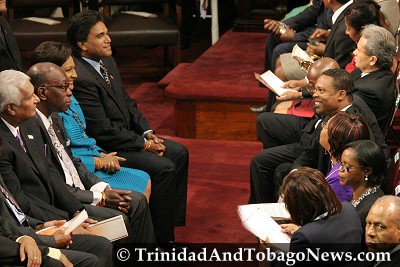 By Derren Joseph
July 12 2010
In the aftermath of the June 22 arrest of Christopher 'Dudus' Coke, the alleged drug lord and leader of a Jamaican gang called the Shower Posse, there has been much debate on the role of politics. There is a particularly interesting analysis done by a Horace Campbell on the Pambazuka News website [Gangsters, politicians, cocaine and bankers] which speaks to the alleged connections between organised crime and political parties/governments. The author speculates that the situation in Jamaica is by no means unique, in fact–"From the streets of West Kingston to the hills of Port of Spain, Trinidad to Guyana and down to Brazil, gunmen (called warlords) allied and integrated into the international banking system had taken over communities and acted as do-gooders when the neo-liberal forces downgraded local government services." If you have the time, I suggest you Google it and have a look as it makes for interesting reading.

One thing that struck me about the article, was a quote attributed to former Jamaican Prime Minister, Edward Seaga who stood on an election platform and promised that–"Blessings will shower from the sky and money going jingle in your pockets." As we in Trinidad take part in the local government election campaign season, I have been reflecting on this politics of promises. On the Facebook fan page of the Trinidad and Tobago Transparency Institute, there is a speech made by Douglas Orane (CD) who is the Chairman and CEO of GraceKennedy Ltd. Orane, like Horace Campbell believes that the key is to break the link between politicians and organised crime which is at the root of the issue. To break this link requires three (3) distinct actions. The first action described by Orane is to stop the flow of money to corrupt entities and individuals through the award of state contracts.
In Jamaica, there are calls for greater transparency in the procurement process of state controlled entities and in this regard, there are calls to increase support for the office of the Contractor General to give that office more power to prosecute breaches of contract award guidelines. In Trinidad and Tobago, we have had the recent Uff Report which also encourages us to consider Procurement Reform. Perhaps there is a similar message to be found in the report coming from the inquiry into the Piarco Airport Construction, which has yet to be made public? The second critical issue is that of political party financing. Orane explains the need to insist on the passage of the draft legislation on campaign funding that has been on the table since 2006. Such legislation would require political parties to make clear and transparent, the source of their financial support.
Here in T&T, the Trinidad and Tobago Transparency Institute has also consistently advocated for legislation that requires transparency in campaign financing. The third critical issue is the establishment of a system of integrity testing for persons who offer themselves for political office. We in Trinidad and Tobago have our Integrity in Public Life Act and our Integrity Commission. Not that we should just tick that box and move on, but we need to continuously ensure that this Commission has the necessary resources to carry out its duties without any undue political pressure. Orane makes three very solid points but I wonder if we should not be going deeper still? Our family was at church last Sunday (an activity we definitely do not do as often as we should) when the Pastor read the following quote that struck me as incredibly profound:
"A democracy cannot exist as a permanent form of government. It can only exist until the voters discover that they can vote themselves largess from the public treasury.
From that moment on, the majority always votes for the candidates promising them the most benefits from the public treasury, with the result that a democracy always collapses over loose fiscal policy, always followed by a dictatorship."
This statement is attributed to Alexander Fraser Tytler from an 1801 collection of his lectures.
Professor Tytler may be correct to the extent that we cannot point fingers solely at our politicians. We as regular voters must bear some responsibility for sometimes being seduced by the platform speakers who promise us the biggest share of the treasury. It must be about more than mere greed, we must vote for those committed to making our country a better place for each and every one of us. My name is Derren Joseph and I love my country. As always, I end by saying that despite our challenges, we are so blessed to live in this beautiful land. Let us continue to have the audacity of hope in our country, as we embark upon the next chapter in our nation's history.