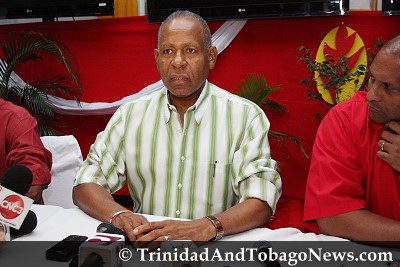 By Carol Matroo and Joanne Briggs
Tuesday, May 25 2010
Former Prime Minister Patrick Manning said he will take full responsibility for the People's National Movement's (PNM) loss to the People's Partnership in yesterday's General Election.

Addressing a handful of loyal supporters at PNM headquarters, Balisier House, Port-of-Spain last night, Manning said the results came as somewhat of a surprise to him.
"I am here to concede defeat in the General Election 2010. We had reason to believe we were going to be successful, but it just didn't work that way. I want to assure you that it's not the end of the world or the end of the political world.
"We in the PNM believe in democracy. The people have spoken and some say that the voice of the people is the voice of Almighty God. We accept the results and I accept full responsibility for it," Manning said as supporters, some of whom said they would continue to support the PNM leader despite the loss, applauded.
Manning arrived at Balisier House at about 10.30 last night, even before going to his constituency office in San Fernando East, the seat which he won and has represented since 1971.
Full Article : newsday.co.tt
***
***
Election 2010: A List of PNM Winners
Arouca/Maloney: Alicia Hospedales
Diego Martin Central: Dr Amery Browne
Diego Martin North/East: Colm Imbert
Diego Martin West: Dr Keith Rowley
La Brea: Fitzgerald Jeffery
Laventille East/Morvant: Donna Cox
Laventille West: Nileung Hypolite
Point Fortin: Paula Gopee-Scoon
POS North/St Ann's West : Patricia McIntosh
POS South: Marlene McDonald
San Fernando East: Patrick Manning
St Ann's East: Joanne Thomas