By Stephen Kangal
March 31, 2010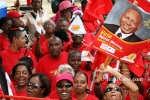 Is it not a contradiction that while establishing the rule-unto-themselves private state companies with precious little accountability and transparency in their operating culture to take over the delivery of services from public service entities, we the taxpayers are today inundated with all the sordid details of nepotism, corruption and exorbitant billion dollar and non-accountable disbursement of the public purse by UDECOTT?

The current politicization/privatization fixation is driven by a hidden ethnic, political patronage and electoral security PNM agenda geared to deepen and widen the client-of-the-state base and state dependence model of governance. The requisite checks and balances and supervision of the public purse/recruitment and promotion of personnel hitherto performed by the independent Service Commissions have been discarded. The costs of this indiscretion are mind-boggling.
The T&T RA is being pushed through Parliament to replace the Customs and BIR. It will be a politically managed and appointed entity collecting and controlling over 95% of our revenues. It will be the private chattel of the PNM Minister of Finance. Simultaneous to the T&TRA we are today assailed with the still-born disaster of the HDC that is proving to be an onerous burden on the Exchequer after replacing the NHA.
The same template of transparency, accountability and efficient delivery of services claims being made of the T&TRA were made in Parliament and paid ads in connection with the HDC. Today the HDC delivers sewerage through the floors and collapsing houses. Supporters of the PNM get 90% of the houses through a secret and skewed lottery designed to achieve voter-padding.
The Sports Company is notable for its $2M flag and its unlimited service to PNM -held constituencies.
Institutional change does not change the operating culture and work ethic of the replaced entity over-night. We are today paying a huge price through privatization of state funds being used to replace an under-paid and mal-equipped public service. Inflated salaries/budgets in these privatized entities are no comparison to that of public servants.
When a government is replaced there will be little or no public service continuity. Widespread personnel changes will take place leading to charges of ethnic cleansing, Africanisation and Indianisation in the administration of these privatized state companies.
In a multicultural society such as T&T transparency, accountability, equal opportunity employment practices and ethnic balance must be the cardinal principles underpinning governance structures.
This is not PNM country!