By Cecily Asson
March 24, 2010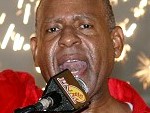 PRIME MINISTER Patrick Manning has accused the country's drug dealers of being "against me" ever since his government's acquisition of tens of millions of dollars worth in security technology including a radar system, fast patrol sea crafts, interceptors and helicopters to tackle the drug trade.
And in a strange twist, Manning said that as a result of drug dealers viewing him as "the man who standing in their way", he is now being attacked daily in the media.

Speaking on Monday night before supporters who gathered at St Margaret's Junction in Claxton Bay, he said, "This is the price I am called upon to pay. It matters not my friend…I am a soldier!"
Full Article : newsday.co.tt
***
PM: I'm the target of drug dealers
After launch of Coast Guard boats…
Prime Minister Patrick Manning believes his launch last month of drug interdiction Coast Guard boats has something to do with the increased level of attack against him in the media in recent weeks.