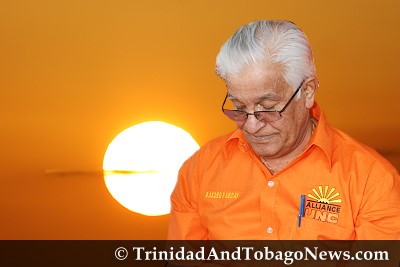 Mr Panday must step aside now
Sunday night's victory by Kamla Persad-Bissessar, placing her as the new political leader of the opposition United National Congress (UNC), is tantamount to a political earthquake in T&T. And while the political shake-up may not leave anyone dead, there are likely to be many careers that end up being badly wounded. Mrs Persad-Bissessar has done what many men before her have failed to do: she toppled the man whose name has become synonymous with post-independence opposition politics in T&T—Basdeo Panday. Although the election machinery was clearly stacked against her and her slate with a large number of voters being disenfranchised, the huge margin of Mrs Persad-Bissessar's victory for the post of political leader of the UNC was a clear indication that almost every member of the party wanted change.

PANDAY HOLDS ON
….refuses to commit on giving up post of Opposition Leader
Defeated UNC leader Basdeo Panday has no intention of voluntarily giving up the position of Opposition Leader to allow new Political Leader Kamla Persad-Bissessar to assume that office. He suggested yesterday that it was up to the elected MPs to advise the President that he no longer has their support, if they wished.
Jack to Panday: Quit now, don't wait to be asked
UNC chairman Jack Warner feels former leader Basdeo Panday would, on his own volition, do the honourable thing and resign as Opposition Leader.
MP: Change Opposition Leader
Naparima MP Nizam Baksh yesterday urged his parliamentary colleagues to give newly-elected political leader Kamla Persad-Bissessar the support she needs to become Opposition Leader.
Bas runs, ducks after court case
Defeated political leader of the United National Congress, Basdeo Panday, ducked and ran from media personnel outside the Port-of-Spain Magistrates' Court yesterday after he reappeared before a magistrate charged with failing to declare his London bank account to the Integrity Commission.
Manning: I feel sorry for Panday
WHILE choosing not to comment directly on the UNC election results which saw Siparia MP Kamla Persad-Bissessar topple Basdeo Panday from the post of political leader, Prime Minister Patrick Manning yesterday expressed sympathy for Panday.
PM: I hate to see Panday go
Prime Minister Patrick Manning says the PNM will fight the Opposition, under new political leader Kamla Persad-Bissessar, 'very seriously' in any future election.
Mr Panday's best option
It may be difficult for him to face this reality, but Basdeo Panday must accept that his day has passed. This doesn't mean that he does not still have a valuable contribution to make to the politics of the country, but he must choose his future course carefully.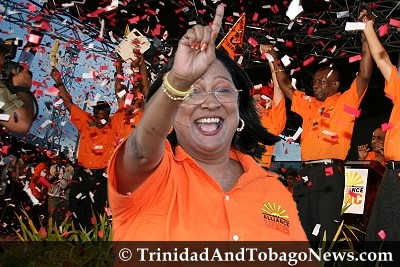 UNC leader: My goal is to take party into Govt
New UNC Political Leader, Kamla Persad-Bissessar, said yesterday she was not 'yearning or longing' to become Opposition Leader.
Kamla for Opposition Leader
UNC POLITICAL leader in waiting Kamla Persad-Bissessar needs the support of seven colleagues in the Lower House to become, for yet another time, Leader of the Opposition.
'My goal is to remove PM'
Kamla Persad-Bissessar, the new political leader of the United National Congress (UNC), said last night she was more concerned about removing Prime Minister Patrick Manning and "end the sad state of affairs in our country."
Kamla: 13,932; Bas 1,359 votes
Siparia MP Kamla Persad-Bissessar won hands down at the UNC internal elections on Sunday, beating fellow contenders, Basdeo Panday and Ramesh Lawrence Maharaj, even on their home turf by a large margin.
Kamla time
WE heartily congratulate Siparia MP Kamla Persad-Bissessar on winning the UNC leadership on Sunday, ahead of current UNC leader Basdeo Panday and Tabaquite MP Ramesh Maharaj.