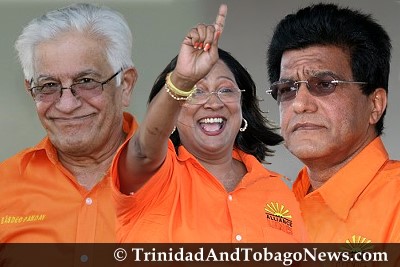 D-Day for UNC
Political mud-slinging. Nightly public meetings. Walkabouts. Picong. Intrigue.
Election Day
By midnight tonight, T&T will know whether United National Congress loyalists, who have stood steadfastly by their leader, Basdeo Panday, through his travails over decades, will finally turn their backs on him, ushering in a sea of change in the political landscape and forcing him to ride out into the political sunset.

Nacta: Bas leads, but turnout the key
The outcome of the UNC leadership contest is too close to call, with the dual COP members the decisive factor in who wins.
35,000 eligible to vote in UNC election today
Oropouche MP Roodal Moonilal says there are 35,000 eligible voters on the UNC electors' list.
Ramnath: 1,400 COP members on voters' list
…but none would be allowed to vote
Ramesh: I have no skeletons in my cupboard
Ramesh on a high
UNC candidate for political leader, Ramesh Lawrence Maharaj is finishing the three-way race with a flourish, predicting he is in a position to get up to 15,000 votes from the 35,000-strong party electorate.
Panday urges: Don't split the vote
Opposition Leader and Couva North MP Basdeo Panday made an eleventh-hour appeal to supporters Friday night that they not 'split the vote' and allow the enemy to win today's United National Congress internal election for political leader.
Kamla: I will end caveman politics
…Win, lose or draw I'll serve, says Kamla
Kamla: I'm ready to lead
'You owe Panday nothing'
Warner confident of win
Jack Warner is prepared to bow out of politics if he is not elected chairman of the United National Congress (UNC) today.
Oudit: Election machinery rigged
UNC members heading to the voting stations today must be vigilant because the election machinery has been rigged.
Gender, alcohol, race cards in UNC election
Police out in full force for UNC elections
Police officers will maintain a heavy presence at all polling stations today to ensure that law and order is maintained during voting for the UNC internal elections.
Shameful game of potty politics -Selwyn Ryan