'I played dead to stay alive'
By Francis Joseph
December 03, 2009 – guardian.co.tt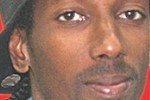 Codi Alves is living a second life today after he miraculously escaped death when police killed his three friends in Morvant on the night of October 1.
Alves, 30, said he had to "play dead to stay alive," otherwise he would have been killed by the police. He "played dead" from Morvant to Port-of-Spain General Hospital where he awoke in the mortuary, much to the surprise of the lone policeman and hospital staff. But his three friends—Joel Romain, 19, a former national junior sprinter, Kerwin "Lall" Joseph, 24, and Akee Caballero, 32, were not so lucky.

So far this year, 43 people have been killed by the police. Alves is still traumatised by the incident, saying his friends were innocently killed. He walks around in a daze. He does not trust even his own shadow, and his family is worried for him. He cannot walk the streets of Morvant where he and his friends grew up. He has decided to speak out, after spending more than a month in prison, because he could not afford bail on what he called trumped-up firearm charges. He remained in prison because his own lawyer, Wayne Sturge, refused to apply for bail as he feared for Alves' life. If an inquest is ordered into the deaths, Alves said he would willingly become a witness. He said there were other eyewitnesses to the shooting, but they were afraid, at this time, to come forward.
The following is Alves' story:
"On September 30, we went to lime in Maloney. The next night, we went back to Building 17 at Maloney, to get girls, nah. We were liming with them, drinking and thing, nah. "After that, we jump in we car and go down the road. I was sitting behind the driver. We were followed by a jeep, coming out of Maloney. "We come out on the highway side. We accustom seeing a jeep, passing normal nah. After coming down, we stop by the driver brother in Tunapuna, then the same jeep pass we again, stop, slow down, and I ask, is that not the same jeep that follow we on the highway? "We say that normal, we have nothing on we in the car. We continue to go down the road, after we pass a street, the same jeep come out the street and follow we again, straight down to San Juan.
Full Article : guardian.co.tt