Trinidad and Tobago News Blog
www.trinidadandtobagonews.com/blog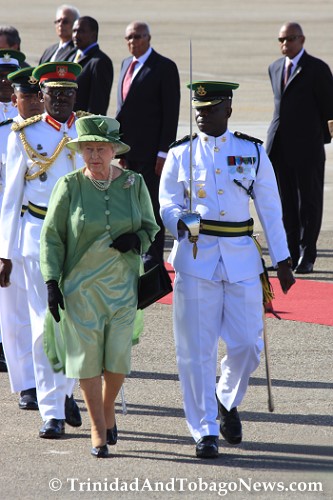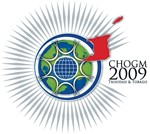 Green Queen
HER Majesty Queen Elizabeth II is here.
Her British Airways Boeing 777 jet airliner touched down yesterday at Piarco International Airport at exactly 2.44 pm, after a four-hour flight from Bermuda. After a 15-minute wait at the end of the runway, in which time local dignitaries including President George Maxwell Richards and Prime Minister Patrick Manning took their positions on the tarmac, the plane taxied up to the red carpet. British High Commissioner to Trinidad and Tobago, Eric Jenkinson, and local Chief of Protocol, Reitha Toussaint, ascended the stairs and entered the craft. A senior British military officer descended to join the waiting party at the foot of the stairs.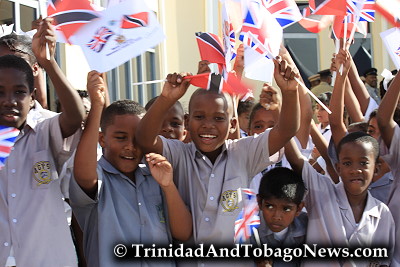 Queen kicks off CHOGM today
AS THE Commonwealth Heads of Government Meeting (CHOGM) officially opens today the global community will be looking on as State heads discuss major issues, chief among them climate change. The meeting is expected to be a precursor to the United Nations' annual climate change conference in Copenhagen, Denmark, from December 7-18. At that meeting nation leaders will try to agree on a pact to reduce emissions when the first commitment period of the Kyoto Protocol ends in 2012.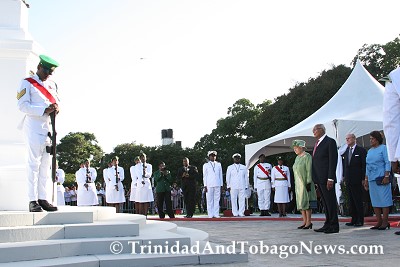 Queen offers to help security in T&T
…schoolchildren in awe at sight of Her Majesty
Her Majesty praises Trinidad and Tobago
HER MAJESTY, Queen Elizabeth II, last evening paid tribute to Trinidad and Tobago, toasting top sportsman Brian Lara and even the Government's GATE programme, as she assured that Great Britain remains ready to assist this country in the security sector and its reforms of the judiciary.
'God save the Queen'
Although the wait in sweltering heat for Her Majesty Queen Elizabeth II at Memorial Park took longer than the actual wreath laying ceremony she performed, the occasion generated much excitement among the public.
'Special' glimpse for Memorial Park crowd
IT may have lasted only about ten minutes, but the visit by the Queen to Memorial Park in Port of Spain will most likely last a lifetime in the memories of those in attendance yesterday.
Ross sees tourism high after Queen's visit
Commonwealth will last another 60 years
A UK government minister is saying that the Commonwealth is an "unparalleled international association" and will survive and thrive for another 60 years.
Special climate session at CHOGM
FOLLOWING the formal opening of the Commonwealth Heads of Government Meeting (CHOGM) today at 10 am, there will be "a special executive session on climate change" at the Hyatt Regency Hotel and Conference Centre, Prime Minister Patrick Manning said yesterday.
Manning responds to claim that this country is a big polluter
Prime Minister Patrick Manning yesterday rejected outright the claim that Trinidad and Tobago- with its heavy industrial economy- was one of the largest polluters in the world, on a per capita basis.
Manning dispels concerns about high pollution in T&T
T&T gets top marks for Business Forum
Work by disabled boy 'blows away' delegates
No holiday today for Tobago students
The "school holiday" announced earlier this week by Government does not include Tobago.
Wealth not common
EVEN AS his administration is under international fire for a proposed bill which seeks to impose custodial sentences and even death for homosexuality, Uganda's President Yoweri Museveni yesterday lamented there was not enough equity in the distribution of wealth among Commonwealth nations.
Commonwealth investigating Gambia
THE Commonwealth Secretariat is investigating why Gambian President Dr Yahya Jammeh publicly threatened to kill anyone who threatened to destabilise his country, Commonwealth Secretary-General Kamalesh Sharma disclosed yesterday at a news conference at the International Financial Centre, Port-of-Spain.
Surgeries postponed
ELECTIVE surgeries at three major hospitals have been postponed to make bed space available for any medical emergency during the Commonwealth Heads of Government Meeting (CHOGM).
Panday on CHOGM: T&T's most expensive talk shop
Opposition Leader Basdeo Panday has questioned statements by Prime Minister Patrick Manning that the country stands to gain 'future benefits' from hosting the Commonwealth Heads of Government Meeting (CHOGM).
E-Health to get CHOGM computers
CHOGM delegates tour centre
Britain's Queen Elizabeth II continues to be the supreme head of St Vincent and the Grenadines.
Government silent at Peoples Forum
The deafening silence from government ministers attending the Commonwealth Peoples Forum (CPF) has left international and regional social activists very concerned, Jerald Joseph told a press conference yesterday at Cascadia Hotel, St Ann's.
Indian journalist surprised by TT's cultural mix
Trinidad and Tobago's diverse culture yesterday surprised and pleased one Indian journalist here for the Commonwealth Heads of Government Meeting which begins today.