Trinidad and Tobago News Blog
www.trinidadandtobagonews.com/blog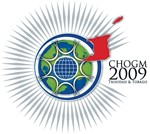 The Queen Arrives Today
Her Majesty, Queen Elizabeth II, is due to arrive at Piarco Airport this afternoon, coming from a State visit to Bermuda with her husband, His Royal Highness (HRH) the Duke of Edinburgh. Her Majesty is visiting Trinidad and Tobago both for a State visit and in her role as Head of the Commonwealth which tomorrow launches its Commonwealth Heads of Government Meeting (CHOGM).

Leaders fly in for CHOGM
THE LEADERS who will be attending the Commonwealth Heads of Government Meeting (CHOGM) have been arriving in the country since Monday. The CHOGM's opening ceremony takes place tomorrow at the Port-of-Spain Academy for the Performing Arts at 9 am tomorrow. The CHOGM's plenary sessions, where discussions are expected to focus heavily on climate change and the world financial crisis, will begin at noon at the Hyatt Regency Hotel and Conference Centre. The meeting concludes on Sunday.
Welcome to TT
WE are very pleased indeed to welcome delegates to the 2009 Commonwealth Heads of Government Meeting (CHOGM) which will be formally opened today by Commonwealth head, Her Majesty, Queen Elizabeth II.
CHOGM Holiday
Government orders schools, public offices closed Friday
Leaders warned: Take bold action
Commonwealth leaders are preparing for their meeting in Port-of-Spain tomorrow amidst a wake-up call from a Commonwealth think-tank that the 60-year-old grouping risks fading into irrelevance unless leaders take "bold action."
It's getting warmer and warmer
Brtish PM wants climate change pact
PM dismisses concerns over focus on oil, gas
Cut ties with US dollar
Nations of the world are being advised to stop pegging their currencies to the US dollar.
Food vendors 'hot' over snub
FOOD vendors at the Breakfast Shed in Port of Spain are again venting their anger for not being able to get a piece of the Commonwealth Heads of Government Meeting (CHOGM) pie.
Row over Uganda gay bill
A ROW between Uganda and liberal Commonwealth nations such as Canada is shaping up over a proposed Ugandan law which would see gays in Uganda imprisoned for life or even executed if it is passed.
PETA hounds Canadian PM to CHOGM
HOLDING signs reading "Canada: Stop the Seal Slaughter", members of international animal rights group People for the Ethical Treatment of Animals (PETA) will trail Canadian Prime Minister Stephen Harper while he's in Trinidad and Tobago for the Commonwealth Heads of Government Meeting, the body said yesterday in a press release.
CHRI against Rwanda readmission
EXECUTIVE director of Commonwealth Human Rights Initiative (CHRI)) Maja Daruwala on Tuesday said that consideration should not be given to Rwanda for membership into the Commonwealth until after general elections in that country.
PM tells of our very beautiful women
Prime Minister Patrick Manning is touting the newly-constructed North Academy for the Performing Arts (NAPA) in Port of Spain as one of the 'most advanced opera houses in the world'.