T&T FACES US SANCTIONS – ROWLEY'S DANGEROUS ALLIANCE WITH VENEZUELA CAN NOW DESTROY OUR ECONOMY
By Kamla Persad-Bissessar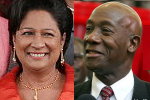 Good morning everyone.
It is with serious alarm that I note a report in today's Trinidad Guardian about the United States probing our country over a Trinidad &Tobago fuel shipment linked to Venezuela. If true, our country's very economic survival is at stake. This since, as our longstanding and greatest global ally, any such rift could gravely damage our very beneficial trade, national security and foreign relations with the United States.

Since January 2019, Venezuela's Government under President Nicolas Maduro has been deemed illegal, brutal and corrupt by the US. The US and 50 other countries have instead recognized the Venezuelan Opposition Leader, Juan Guaido, as the country's legitimate President. Further, the United States has imposed sweeping sanctions on Venezuela's oil industry, and last month charged Maduro and other senior Government officials with "narco-terrorism".
Under Maduro, Venezuela has essentially collapsed into a failed State, and is in the throes of a very serious humanitarian and food crisis. This has caused thousands of Venezuelan refugees to flock to our shores since last year. The Rowley Government, however, has openly supported Maduro's globally denounced regime.
In January 2019, Rowley even got into a very public row with the US Ambassador to Trinidad &Tobago, Joseph Modello, when he said Rowley's continued recognition of Maduro's regime was "deeply concerning". Now, the alleged illegitimate actions of the Rowley regime in their ongoing, questionable and dangerous support of Maduro could cause the US to impose costly and detrimental sanctions for Trinidad & Tobago
This is in regard to a controversial shipment of gas fuel from the State's Paria Fuel Trading Company, which left Trinidad &Tobago's shores on April 21, 2020 for Aruba. Global reports have indicated that this fuel shipment may have eventually been sent to Venezuela. According to the Guardian report, both the US Embassy's Public Affairs Section and a State Department Representative have confirmed that the US Government:
– Is aware of these damning reports
– Has warned other nations against assisting embattled
Venezuela President Nicolas Maduro and his regime.
– Has served notice to foreign institutions that they will face
sanctions for being involved in facilitating illegitimate
transactions that benefit Nicolas Maduro and his corrupt
network
– Has stated that it does not matter how the transactions with
Venezuela are conducted, whether using currency or in-
kind exchanges
– Nor does the US care about whether these transactions are
otherwise legal under another country's laws
– Is now probing T&T's possible violation of the sanctions
that the US has imposed against Venezuela
– Notes that if T&T is found to have assisted Venezuela in
getting fuel, it could open our country up to US sanctions.
The Guardian further notes that Rowley and his Energy, National Security and Communication Ministers, Franklin Khan, Stuart Young and Donna Cox, respectively, have consistently refused to answer their questions as to whether:
– T&T is facilitating fuel shipments to Venezuela
– this deal was discussed during the visit with Venezuelan
VP Delcy Rodriguez last month (where they opened up the
locked borders)
– PDVSA head Juan Santana also at this meeting
Several newspaper reports (2019) have recorded my public condemnation of Rowley for his dangerous stance against the US. I've also consistently warned that any fallout with the US, and resultant sanctions, can seriously damage T&T in the following ways:
– There are more than 200,000 Trinidad and Tobago citizens who hold United States visas which can be seriously impacted
– This will gravely affect their ability to visit the US for studying, tourism, cultural and trade related activities
– The US has a large TT diaspora who can similarly be affected negatively by being unable to move freely between the countries
– 70 per cent of all our food is imported from the US at an annual cost of over US$1 billion (TT$7 billion)
– Any US sanctions, especially in a post Covid-19 world, can therefore deeply affect our already precarious food supply
– The current widespread hunger crisis will therefore seem like a joke
– T&T exports more than US$2.7 billion (TT$18.9 billion) annually to the US in the energy sector
– Sanctions can therefore deplete our already deeply strained revenue stream, potentially causing an irreversible economic crisis
– Sanctions can cause T&T to lose out on its privileged status as the biggest beneficiary of the Caribbean Basin Initiative (CBI), under which we receive trade preferences
– These grant duty and quota free access to the US to the tune of US$400 million (TT$2.8 billion) annually.
– Participation in CBI requires, among other things, a waiver of certain WTO (World Trade Organization) conditions
– T&T's current waiver will expire in 2021 and the US president and Congress have to approve renewing the agreement.
– The CBI also grants TT very important technical advice and cooperation on border control, Customs and Excise and mutual assistance
– Such heavy features of T&T's national security apparatus can therefore be lost, causing our crime ridden country to suffer even more
I am therefore calling on Rowley to come clean and tell this country the true state of this possibly illegitimate fuel shipment. His ongoing reckless, dangerous and questionable governance has truly led to our beloved nation's destruction in every possible way. It must no longer be tolerated, for Trinidad &Tobago's very survival is now at stake.
~~~~~~~~~~~~~~~~~~~~~~~~~~~~~~~~~~~~~~~~~~~~~~~~~~~~~~~~~~~~~~
Dr Keith Rowley
Kamla Persad-Bissessar's rant is not new.
As a desperate and failing Opposition Leader it has become abundantly clear that it is the UNC's position that for them to succeed the country must fail. It matters not what they have to do to bring about such failure but fail we must according to them.
For the Opposition Leader to be out front in scaremongering and giving life to rumours that Trinidad and Tobago has dangerously broken US sanctions against Venezuela and we have failed to answer allegations of that nature is as low as Mrs Persad-Bissessar has ever gone.
To undermine the country's foreign policy is one thing but to invite others to do so is as dastardly and disgusting as it could ever be.
To support a "President Guaidó" that is not acknowledged by CARICOM or the United Nations is one thing but to say that Trinidad and Tobago has not answered the recent allegations is a naked self- serving untruth.
I as Prime Minister, on Wednesday in the Parliament, answered a UNC question and I denied any knowledge of Trinidad and Tobago fuel business making any sales to Venezuela.
The Minister of Energy also responded saying that we sold fuel to Aruba and cannot be held responsible for the end user of that product.
The Chairman of state company Paria also explained how it has transacted business and all of these responses are clear and truthful denials.
Notwithstanding all of this the Opposition Leader in her desperation for relevance is fueling unfounded allegations against her own country in the hope that it will result in damaging sanctions which would destroy our economy and our friendly relationship with the United States.
She invites cancellation of visas and a destruction of our economy in support of her Venezuelan President of choice even as her country steadfastly rely on the rules-based Charter of the United Nations.
If this country had any doubt about who Mrs Persad-Bissessar is and whose interest she serves as Opposition Leader all one has to do is take this disturbing rant for what it is, the dishonest last gasp and gamble of a dangerously delusional woman who will sacrifice her country for a chance at the polls.