By A. Hotep
April 17, 2020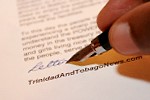 PM Dr Keith Rowley's "Road Map to Recovery" team is mostly the same tone-deaf people who have us in our financial and social crisis today. There was no inclusion of members of the African community who advocate for addressing our racial and cultural issues which remain at the heart of disunity, insecurity and discriminatory social behaviours in this country. Why was the Opposition leader not invited to be part of this group? I am not aware of members of this team placing environmental concerns at the top of their agenda. Where are those who are concerned about the development of our agriculture and water management sectors? I rather suspect some feminists would also have similar concerns about being omitted.

We have a novel opportunity to reshape this society in such a way as to give meaning to the phrases, "we are all in this together" and "here every creed and race finds an equal place". But, the opening salvo from the Prime Minister signals his intention to continue prioritising the very same people and policies that help perpetuate the underdevelopment of our people.
If the government fails this time around, then it simply means that it has not learnt many of the valuable lessons this novel coronavirus period affords us. It means that Trinidad and Tobago may need to experience damaging community spread before the government and others grasp that having ghettos, slums and generally poor communities make us all unsafe in this country. We should have learnt this lesson before with our ever-worsening violent crime situation. Having failed, we have another opportunity to look at the economic and social impact of the government's policies on the entire society.
While the Prime Minister appears to be frustrated at times because certain elements fail to heed the call to self-isolate to avert the community spread of COVID-19, this and past governments have been guilty of pampering the privileged few who flout rules and regulations while disregarding the economic and social challenges that face the poor. I wonder if the police are monitoring the wealthy folks who are down the islands as they too have a penchant for disregarding the interest and concerns of the wider society. All parties in this economic and social divide need to appreciate the effect of their lifestyles and choices on all of us.
Now is an opportunity for the government, having secured the attention and somewhat respect of the population, to encourage widespread discussions towards developing policies that would enable a more equitable society.
If "stick break in dey ears" then, as another old saying goes, "who cyah hear go feel."