By Stephen Kangal
April 14, 2020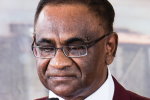 The Honourable Mr Justice Frank Seepersad in his electronic Easter Message to the PCTT (Express 13 April, p.17) would seem to posit that the current exponential and unprecedented rate of the destruction of human lives now nearing 100,000 wrought by COVID-19 would appear to be, inter alia, a grim manifestation/reminder of the sovereignty of God over all things.

Does God need to remind us human beings, with such brutal infestation of COVID of His undisputed sovereignty by bringing the world to a screeching halt and a virtual threat to human existence?
This is in my view and on the contrary, a horrific manifestation of the unleashing of the forces of evil- of darkness contending against the forces of good and the divine symbolised by Easter celebrations and the Hindu Festival of Divali.
I wish to submit that God has no part in the COVID-19 pandemic because God has love and caring for all humanity whom He made in his own image and liking.
Is this also the response and current belief of the Presbyterian Church of T&T on this pandemic that has reduced human life especially of the aging to mere nothingness buried in mass graves without a funeral note and a prayer of committal?
Some religions such as Hinduism are based on a pantheistic doctrine of God and may regard this destructive viral outbreak as a brutal act of Nature to bring about balance, rationality and a new equilibrium given the rate at which the planet earth is being disfigured by excessive use of fossil fuels and depletion of finite resources.
It is as if Nature in its brutality is sounding a warning alarm to humanity to stop the rape and pillaging of Dharti Mata (Mother Earth) or it is taking its own unilateral draconian action.
According to the learned and inspired Judge, is God displeased with our lack of faith since COVID is no respecter of religions, faiths and ethnicity?
How is our faith in God strengthened and renewed when millions are going to die and perish without ceremony, rituals and the tears and final good-byes of their loved ones? Human life it appears has been reduced to mere meaningless nothingness by the ravages of this pandemic.
All the optimism we cherished as a global village society seems destined to be interned into unnamed graves.
The learned Judge Seepersad must give us more explanations for his thesis that God is behind this catastrophic destruction of human lives for the sake of flaunting his sovereignty and indeed His imperialism that we have never disputed in the first instance.