By Stephen Kangal
March 30, 2020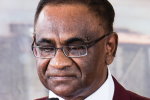 The PNM Government in categorically refusing to arrange entry/arrival home of 35 of our elderly nationals and having forced Barbados to quarantine them somewhere at their own expense when they arrived at Grantley Adams Airport from South Africa via the UK is in flagrant violation of customary law on the treatment of nationals, consular duty and indeed plain humanitarianism.

One must recall that the Sabbath was made to facilitate man and not man for the Sabbath. The "closure" of Piarco Airport effective Sunday 29 March while both CAL and BA are permitted to make flights, the latter having come in again on Thursday last, is a lame unconvincing excuse for this cruelty being visited out on our own.
Trinidad and Tobago cannot prevent its own citizens from re- entering its country especially in the face of the unprecedented threat to life and limb that they now face on the outside world except on the very limited grounds of national security concerns.
We had Carnival in late February and the Prime Minister and party left for Ghana on 1 March and returned around 9 March.
We have the model of the 68 who came from Guadeloupe and were quarantined in Balandra. Use this model again to bring back our very own home from Barbados where they are quarantined in a hotel experiencing growing difficulties by sending a CAL ATR aircraft.
Please you cannot debar our nationals from their fundamental humanitarian entitlements to come home where they belong to be with their loved ones to face the current health crisis together.
What we have done to our complete embarrassment is to decant our own human problem into the hands of the Bajans while Young has washed his hands and disowned our elderly 35 people.
Government must act more humanely in immediately air-lifting our nationals stranded in both Curacao and Barbados. They must be allowed to satisfy their innate compelling homing instinct in the face of such frightening health adversity that they face on the outside and their natural and instinctive human drive and desire to rejoin their loved ones at home.
They cannot be made to suffer from this galloping doomsday COVID-19 scenario come what may in a foreign country that is only 500 miles away from home.