By Raffique Shah
January 14, 2020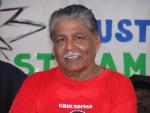 If we think that the Trinidad and Tobago economy is in for another rough ride this year, possibly rougher than what we experienced over the past five years, we should read some of the grim global economic outlooks projected by international agencies such as the World Bank, the International Monetary Fund, Morgan Stanley, Goldman Sachs et al for almost every country in the world.

Guyana—and this is in no way intended to be disparaging of our CARICOM comrades—is paraded as the likeliest star performer by way of growth of gross domestic product in 2020 (by an estimated 86 percent. almost doubling the US $3.2 billion it recorded in 2018). T&T will be lucky to register any growth of GDP. The only number that is showing continuing but worrisome growth is the national debt.
Of course, Guyana's luck comes from the discovery of an estimated 13 billion barrels of recoverable oil, with upward of 5 billion declared "proved", and drilling got underway since 2019. "First oil" was shipped last December by the principal operator, ExxonMobil. Based on initial reports, within one year production will increase from 100,000 barrels per day to 200,000 bpd, eventually rising to 1,000,000 bpd, possibly more.
I was surprised to read that initially the government will collect only US $300 million in year one. It seems that Exxon, the biggest oil company in the world, in negotiating the agreement with the government some years ago when the latter was unsure if there was any oil (and gas), signed off on Exxon recovering its capital outlay within a short period, hence the country surrendering close to 80 percent of revenue to the company.
I should add that almost all exploration contracts carry similar clauses: over the past five years, the international giants that drilled for oil and gas offshore T&T recovered their investments within the first two years of production, triggering a virtual crash in revenues from production. One would think that with more than 100 years of experience in the oil industry, T&T would have ensured it didn't fall into that trap. We have learnt the hard way, especially at Atlantic LNG, that the companies were always smarter, or governments too weak to strike fairer deals for our resources.
So Guyana is way out front in the GDP-growth-stakes, and will remain in double-digit-zone for the next five years at least, as they move from 161st in rankings to 1st, and their per capita GDP soars from just over US $4,000 to—who knows?–$80,000? Given our own experiences in gas and oil wealth use, abuse and boldfaced "t'iefing", we can only hope the not-so-poor buggers will demand of whichever party or coalition is in power henceforth comes clean with the citizenry, or the thieves end up spending years shackled, scythes in their hands, harvesting rice crops, a cereal they must never get rid of in the euphoria of oil wealth.
While Guyana's growth is guaranteed, T&T, like most countries that have revelled in oil-and-gas dollars, and have not planned well for the decline in production, not to add diversification of their economies, must now re-focus to see what possibilities are out there, or what resources have not been harnessed fully to serve us in the hour of need.
If we remove the scales from our politically-jaundiced eyes, we'll see that in spite of a lot of what I can describe only as "slackness", we are far from facing a "dogs dead" scenario as the prophets of doom and gloom would have us believe. The Point Lisas downstream energy sector model, for all its weaknesses, can save our souls (I am tempted to add a pronunciation prefix here!), once the powers that be and the citizenry recognise that we need all hands on deck, that the colour-coded model we have grown to accept as a given, our absolute disregard for productivity, our penchant for pilfering that permeates the society from 10-days and food-cards scavenging to the padding of barrels of oil sold, and the inflation of contract-prices by adding "zeros" to cater for kickbacks, simply cannot, must not, continue.
We have more than enough to equitably redistribute the wealth of this nation such that no one will go hungry, be denied quality education and/or training for skilled, decently-rewarding opportunities. We need to live healthy lifestyles from young, not eat our way to preventable diseases that cripple us in our older years. We must prioritise our consumption habits by putting needs before greed.
Regarding the economic challenges we face, patriotic son-of-the-soil and creative, fiercely-independent energy analyst Gregory McGuire recently penned two pieces that point us to salvation if not prosperity. In "Gas sector needs more of NGC", he countervails the sterile arguments of the "doomers" and "gloomers" by making a case for the expansion, not contraction, of the state-controlled National Gas Company.
It is recommended reading for all. He traces the pioneering works of the NGC and its subsidiary, NEC, in the downstream energy sector, and the rewards they have captured for their owners, the citizens of T&T, over the years. Let the Brother preach: "NGC today is a TT $ 31 billion dollar enterprise, with a vision of becoming a global integrated energy company. According to the TTEITI report in 2016-17 fiscal year, NGC was the largest single contributor to Government revenue. NGC made tax and dividend payments of $2.2 billion or 38 per cent of total of $5.8 billion in energy sector revenues. As a significant contributor to the national economy, it is imperative that NGC continues to play a vital role in our future development…"
And this: "…NGC is well placed to lead the thrust in taking Trinidad and Tobago overseas. Given the demise of Petrotrin, it is the only local entity with the resources and capability to become a global enterprise. Arguably the best opportunities exist in gas processing, pipeline operations and shale gas. Opportunities abound in all the new and emerging oil and natural gas provinces including Guyana, Tanzania, Ghana and the USA…"
Yes, even the USA! Amen, Bro.