By Raffique Shah
November 21, 2018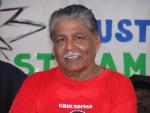 Trinidad and Tobago has found itself in an unenviable, as well as untenable, position of having to deal with hundreds of mostly Venezuelan and Cuban nationals who have entered this country, legally and illegally, then announcing themselves as refugees or seeking political asylum.
This situation is unenviable because we are the only English-speaking Caribbean island-state that faces an influx of Spanish-speaking refugees, in addition to Jamaicans and Nigerians who have overstayed their Immigration-approved time, and some Chinese, Syrians and Lebanese. Except for the fairly-prosperous Dominican Republic that shares the large island of Hispaniola with poverty-stricken Haiti, where nationals of the latter invade the former on foot, whence they face rigid deportation procedures, T&T is a unique magnet for illegal immigrants.

But the influx of foreigners is untenable for many reasons. The first is that while our oil- and gas-based economy, during the best of times, gives us a high ranking in metrics such as per capita gross domestic product (GDP) and gross national income (GNI), reality is that inequality of incomes leaves us with many of our citizens living below the poverty line, and an unacceptable number classified as destitute.
In the worst times, when energy prices collapse, and when we add gross mismanagement of the economy and widespread corruption to huge debt, the deleterious effects of these negatives impact even the middle classes. Thousands of workers are retrenched, infrastructure is neglected, services such as health and education fall into ruin—in other words, things fall apart and our citizens suffer.
T&T is not Germany, a global economic powerhouse whose resilience makes it a bastion of stability, even prosperity, in the worst of times. We are not in the league of developed nations that can withstand a virtual avalanche of refugees as happened in the European Union over the past few years. We cannot afford to house them if only in tent-communities that are temporary, feed them to meet minimal nutritional standards, and after the furore dies down, absorb them into society as many EU countries did.
T&T cannot cope with that—and the Cubans who have been here, some for as many as three years, know that. It is why they have used this country as a temporary staging point, their ultimate goal being to find permanent new homes in a third country, likely the USA or Spain or elsewhere in Spanish-speaking Central America. Ironically, tens of thousands of citizens from the latter region are fleeing on foot, heading towards the USA, where they have little or no hope of gaining entry.
Why the Cubans chose to burden us with their plight, with their fight to flee Cuba, remains a mystery. Why not The Bahamas or Jamaica, which are geographically closer to them? The cost of flying from Havana to PoS must be close to US $1,000, while Jamaica or Panama must be half of that.
Besides, these refugees or asylum-seekers must know they are putting the T&T Government in an awkward position. In addition to the two countries enjoying healthy diplomatic and trade relations, for many years T&T has utilised the services of Cuban doctors and other medical personnel through government-to-government agreements. That this arrangement has endured for decades must mean it has been mutually beneficial. I know of no instance where any doctor has sought asylum while he or she worked here. And those who might suggest they dared not lest their families in Cuba felt the wrath of that government, what of the fates of the families of the current asylum seekers whose faces and anti-Government voices have been widely publicised?
I can easier understand the Venezuelan-invasion, they being largely economic refugees, hopping across from the mainland to South and South-West Trinidad seeking jobs, especially construction work that Trinis shun, and returning home frequently with money in their wallets and goods that are scarce in their shops to feed their families. In fact, I am told that cashiers in supermarkets in the South, including the exclusive "members' clubs", must be bilingual or capable of speaking Spanish by signs, such is the volume of mainland shoppers.
Few, if any, of the Venezuelans, mention anything about seeking political asylum. They may criticise the Caracas government, cuss President Maduro, which they are entitled to. But they are not seeking political asylum anywhere. A few million have crossed their country's borders with neighbouring South American states seeking jobs. When the time is ripe, they will return home to deal with Maduro, if they are so inclined.
I submit that if registered, tax-paying contractors wish to employ Venezuelans (or Jamaicans or Guyanese) because of their superior work ethic, provisions be made in Immigration regulations to facilitate short-term contracts (maybe six months).
Of course, because of the crime tsunami, National Security personnel would want to monitor all traffic between Venezuela and T&T to stem the flow of arms, ammunition and illicit drugs. And those caught breaking the law should be dealt with expeditiously in courts set up for that purpose. I note that the new Commissioner of Police has already taken a step in that direction by trying to ensure the integrity of his officers stationed in South.
I know that T&T is a signatory to several United Nations conventions relating to refugees, and, from a humanitarian perspective, I understand why people flee their homelands for greener pastures or to escape oppressive regimes.
Realistically, though, for every one that runs away, 10,000 stay behind to fight another day, to rescue their native lands from economic misery or political treachery. These are the patriots who win my respect, who deserve whatever support we can lend them.