By Raffique Shah
July 25, 2018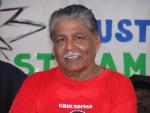 I pity the poor bugger who finds favour with both government and opposition parties to be appointed the new Commissioner of Police. If that wretched soul happens to be Captain Gary Grffith as reported in the Sunday Express, then I'll do something I've not done in 50-odd years: I'll fall on my knees and pray that Jah makes the purgatory of that post easy for him for the few months that he would become the "Chief Bobolee" to blame for the crime epidemic that no mortal can mitigate, far less eradicate.

It is clear to me that this nation, which collectively manufactured the criminal enterprise, the only growth "industry" outside of oil, gas and petrochemicals, that is worth billions of dollars per year and "employs" thousands of mostly young people, never wanted a commissioner who would bring crime under control.
On the one hand, the average citizen wants a superman who would magically reduce the bloodletting, the gore that affects their sensitivities, the dastardly criminal acts that may hit home. But the "Commish" must ignore "small t'ings" such as inspection of motor vehicles, driving on the shoulders of the highways, stealing State and even private properties, and so on.
For the suppliers of illegal arms, ammunition and narcotics, any successful assault on serious crimes would mean putting them out of business. Security providers, too, whose survival or profits depend on continuing crime, would be quite unhappy with a crime-free country. And most of all, the legal fraternity, many of whom became multi-millionaires off the criminal enterprise, would mourn the demise of rampant crime.
So anyone who is aspiring to become the new Commissioner, and who believes he has a plan to rein in crime, should think carefully before accepting the appointment, especially when this is at the behest of politicians.
Why were Canadians Dwyane Gibbs and Jack Ewatski, CoP and Deputy CoP respectively, who seemed to be serious about curbing crime when they were hired by the People's Partnership Government in November 2010, hounded out of office in 2012?
The duo had no political- or self-interest here. They did not qualify to vote in our elections, nor did they have connections with the "Police Mafia" or local criminals. They were simply professionals seeking to do their jobs.
Yet, they were constructively dismissed by the then Minister of National Security, who just happened to be one Jack Warner! Jack, whose ill-repute would later resonate from Zurich to Qatar to New York, and who has been fighting extradition to the USA to face a series of serious felonies, all but fired the last real commissioner and deputy commissioner we had.
Worse for the country's reputation, Gibbs' and Ewatski's resignations were happily accepted by then PM Kamla Persad-Bissessar and her entire Cabinet. That was when an already bad crime situation turned worse, when pillage of the Treasury became plunder, and when illegal firearms and ammunition started flooding the country.
Thereafter, the process of selecting persons for the top positions became so convoluted one might speculate that the politicians were happy with the stalemate. It allowed them to abuse Stephen Williams by making him the first permanently acting CoP in the world—six years of six-month extensions—and adding insult to injury, rejecting his nomination for the job on the eve of his retirement.
What heartless crooks!
All of which make me question why any sane person, most of all a professional, and in Griffith's case a Sandhurst-trained officer, would demean himself by accepting such appointment.
If he does, and this is all speculation as I write, he would be a fourth choice for the job, the top three having come through the ranks of the Service, and who, understandably, would hardly be happy to have Griffith as their boss.
It matters not that his jilted rivals spent 30-odd years in the Service and served at almost every level possible, that while crime escalated and they did nothing significant to prove their worth. What would change for the better if anyone of them were given the Commissioner's cap tomorrow?
Nothing.
They know and they understand that. But they also know that the "Police Mafia" would be more inclined to tolerate them than outsiders like Gibbs and Ewatski in the past, or Griffith tomorrow.
If I come across as being negative towards the most serious issue facing the nation today, I plead guilty—but with good reasons.
I cite the politicians: when rumours surfaced recently that law enforcement was clamping down on motorists who had failed to have their vehicles inspected and certified, there was a rush and a howl from people who knew the law but deliberately flouted it.
How did the line minister respond? He granted an extension of time, just as his predecessors had done on several occasions. Message to motorists? Ignore the law.
I cite the police: a uniformed cop is captured on video gambling on what was likely an illegal slot machine. The response from a senior officer who, incidentally, was an applicant for the CoP job? Don't judge the officer…he may have been on a fact-finding mission!
You tell me: is anyone—citizen, police or politician—serious about fighting crime or appointing a professional police commissioner?