By Stephen Kangal
April 11, 2018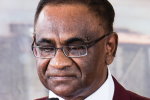 Professed terylene ignorance of goings-on at Minister Moses' own Ministry, allegations of a deliberate conspiracy to side line his weak and wobbly political directorate/ tenure in foreign policy finalization and lastly non-attendance by T&T at the March 15 OAS Budget Committee Meeting of officials on the Dominica waiver issue are being given centre-stage in the unconvincing explanatory paradigm for the anti- Dominica T&T vote debacle as well as the justification for the absolution by The Prime Minister of an out-of-his-depth, bed-raggled, somnolent and confused Foreign Minister Moses.

It appears to me that Prime Minister Rowley did not want to fire Moses firstly. He then began a spin to scrape the evidence barrel to manufacture cosmetic unconvincing innuendoes to file a conspiracy claim against Moses and to lay the blame for the Dominica fiasco at the feet of innocent public servants and the Ambassador Washington. Something is not right in the state of Trinidad and Tobago and it stinks to high heavens.
If the Prime Minister were to reconsider quite objectively all the evidence presented to him he should honestly arrive at a different conclusion/verdict. He has found culpable the Permanent Secretaries and castigated publicly the Ambassador in Washington and now ropes in Mr C. Thomas who will be forced to validate his premature verdict as a former quasi-PNM operative in this tragedy of errors and horrors.
Shed a tear for poor victim but incompetent Moses because his public servant friends want to isolate and sabotage him when he has been doing that all by himself very well without the need for external assistance.
That post-Cabinet Prime Ministerial statement plummeted T&T to a new low in relegating and subordinating the over-arching and sacrosanct principle of ministerial responsibility. He sacrificed it on the altar of political/Cabinet solidarity and feigned ministerial ignorance. Even the Prime Minister uses that same ignorance to avoid disciplining his ministers including Moses who has now parted the Caribbean Sea between T&T and Dominica without raising his hands but denigrating his staff.
There can be no reasonable basis for Minister Moses to be exonerated from precipitating this regional and national embarrassment because his current stewardship or lack thereof was the forerunner for foreign policy fiascoes such as the Dominican one. There is more to come before the PM reluctantly removes his Tobagonian boyhood friend from his misery and all of us from shame, disgrace and scandal in the national family.
T&T's absence at the March 15 OAS officials meeting is being singled out by the Prime Minister for ignorance of the impending March 23 unanimity vote and non-consequential increase in OAS contributions. Even if this were so, these decisions would have been available and known to the T&T Ambassador/ Embassy staff on the same day or immediately after.
I fail to appreciate what former Ambassador Christopher Thomas can contribute factually to achieve damage control of this foreign policy disaster when he is a stranger to the series of events and having regard to the concoction of the weak conspiracy theory levelled against the political directorate of the Ministry allegedly perpetrated by two administrative heads. This is another damage-control and delaying strategy to buy time hoping that it will be forgotten allowing Minister Moses freedom to surface again as a headless chicken to our extreme national embarrassment.
Ambassador Thomas dare not contradict the pre-determined verdicts of the Prime Minister. So what is the purpose of his ex post facto intervention? Is it to fire Ambassador Spencer? The PM has already signaled his anger at the Embassy's conduct at the OAS.
The innocent sacrificial lambs for these ceremonial rites of absolution for Moses conducted by High Priest Rowley of Les Coteaux are Ambassador Philip Spencer, PS Jennifer Daniel and Deputy, PS Reita Toussaint.
Not Moses who never seems to come forth but always fifth!