By Stephen Kangal
March 19, 2018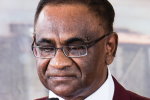 While being a student of Geography at Hillview College in 1959 I was taught by Mr Trevor Spenser that a sedimentary rock is a conglomerate of layers of alluvial deposits. This lesson flashed upon my inward eye when I studied the draft provisions of the current Bill 5 of 2018 that is geared to confer the long-awaited advanced state of internal self- governance to the 40,000 people living within 116 square miles of mountainous terrain but also enjoying unrestricted mobility including residence in Trinidad.

Accordingly the only concept in the English Language that can succinctly capture and encapsulate the concatenation and intensification of the proposed layers and layers of internal self- governance structures in the Bill is what I term sedimentary governance. I seem to want to believe that after the proposed internal governance new infrastructure is fully in place in Tobago few will be left to be classified as the governed.
If this over-kill is what Tobagonians worked long and hard to achieve and call it self-governance then there is little change from the THA that employed and controlled more than 60% of resident Tobagonians that will now exceed 80% under the new Tobago Legislature.
Let us examine the hierarchical entities that will now govern and exercise jurisdiction over Tobago. Tobago incidentally will be the equal counter-part of Trinidad having consigned the geo-politics behind the unitary statehood to the dustbin of power-seeking, adversarial political history.
They sedimentary layers I refer to are:
1. The House of Representatives
2. The Senate
3. The Cabinet
4. The Presidency
5. The Tobago Legislature
6. The Tobago Island Government
7. House of Assembly
8. The People's House
9. The Tobago Executive Council
10. The Fiscal Review Commission
This is a plea for a return to sanity to reduce the penchant for make-work governance. Please free -up the few people left from the bloated bureaucracy to become involved in the real private sector -driven socio-economic development and self-reliance of Tobago. This is what matters right now- not illusions of false grandeur/importance, jacket and tie self- governance and dependency.
But more on the other dubious aspects of the Bill Anon!