By Dr Selwyn R. Cudjoe
Submitted: December 25, 2022
Posted: December 27, 2022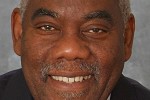 Today is Christmas Day. Let us give thanks and praise to the birth of a wonderfully well-researched book, Via the Round About, written by Beverly Scobie. It traces one part of Scobie's family, beginning with Joseph Arthur, the patriarch, who was "enslaved for all of his formative years".
Scobie is ambitious. She wishes to tell of "The Scobie Family's Story of Resolve and Resilience from 1819 through Emancipation, the Colonial Era, and Beyond". Although this is quite a bit to chew, Scobie keeps our interest all along this magnificent journey, entertaining and enlightening us as she tells her story.
Continue reading Landscape, family and memory →