By Raffique Shah
Submitted: December 24, 2022
Posted: December 27, 2022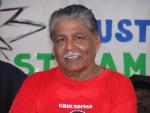 Ever since I became an adult, while I marked Christmas with maybe a special meal, a generous helping of Rosina's delicious fruit cake (slices did not apply there) and some quality confectionery, I have held that Christmas is for children to enjoy.
The story of the Christ-child, the nativity, the seasonal songs and all the mystery, the excitement that are standard for the festival (if it can be so classified) stir strong "I must have that!" desires among consumers, and in turn target the pockets, wallets and debit-and-credit cards of adults, encouraging them to spend on their loved ones, especially children, what they could ill-afford.

As we arrive at Christmas 2022, the most uncertain in more years than most of us can recall, the national economy declined when the lingering effects from the pandemic hit businesses and individual income earners alike. Citizens will realise the sacrifices they must make to survive are real.
Wherever in the world you live, you knew instinctively that your job or business had taken direct hits. The value of your monthly incomes diminished by maybe 25 to 30 per cent. You are the victim of a sharp decline in the purchasing power of the dollar. Like it or not, the TT dollar, like most other currencies across the world, has been effectively devalued.
So we are in lean times, and people are finding different ways to cope. Many pretend to carry on as usual, but once you are from the middle-income to low-income brackets, or worse, no income at all, you are reduced to tears, to casting your pride to the gutter, and openly soliciting any kind of assistance to save your family from starvation.
For some time now, my daughter Leila has been telling me that large numbers of people, especially children, are starving in this country. She is on the road many days since I stopped driving exactly ten years ago when Parkinson's disease struck. PD, as those familiar with the incurable affliction dub it, reduces its victims' mobility and other vital motor skills. So I depend on her and others for reports on what's happening out there.
The reports are scary. Young mothers and a sprinkling of single fathers are unashamedly begging for help to keep their children from starving. Not every young man who is job hunting, be he local or migrant, is a potential or actual criminal. Young, strong men are offering to do housework, so desperate are they. But better jobs are hard to come by. The enterprising among them try their hands at business, from the age-old buy, mark up and sell. But that's a very tough, competitive sector, as are the services; more so, food.
Many generous persons are coming together to donate food hampers to distribute among the neediest in their communities. Families on the verge of starvation take their hampers and utilise them prudently. Others use intimidation and pure crookedness to grab as much as they can—survival of the strongest.
Then there are the harsh realities of businesses making money off those who do not have or, conversely, those who have, wasting both money and food without a care for humankind suffering all around them.
For historical or probably religious reasons, Christmas seems to tug at the hearts of even the most insensitive among human beings. I wish to use this platform to appeal not only to Government that is trying to clean up its social mitigation programmes. I start with the family units: it is more than high time that people realise that food does not mean only "fast foods" that we seem to have promoted to the top of our "needs" list. For our health and general well-being, whatever local foods and fruits we can produce are infinitely better products health-wise. Our provisions are rich in complex carbohydrates, which form an essential component of any healthy diet. Our green leafy vegetables are also nutritious. We do not need meats for protein. There are multiple sources of this element.
People who are in need must learn to cook. Buying every meal is a colossal waste of money and other resources. I am told—and I believe it, given my sources—that children, even mature teens, dispose of the local contents in meals distributed in the school's nutrition programme and eat the garbage such as fried potatoes. This wanton wastage, which is common even in these "starvation" times, constitute a criminal act and should be punishable to those who waste food. Legumes—split peas, lentils, red beans, etc—are very nutritious.
I shall continue to expand on these contradictions in another column. For the moment, though, the needy should enjoy a Christmas meal made of local ingredients, much the way those who can afford it and share their Christmas fares with the hungry, especially older people and children.
Have a healthy, if not happy Christmas, my people.