Newsday Editorial
Thursday, May 5 2016 – newsday.co.tt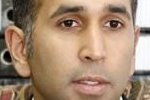 IT WAS a bright cold day in May, and the clocks were striking 13.
This opening line is a paraphrase of the famous opening line of George Orwell's novel 1984. It's fitting, we feel, given what took place in the Senate on Tuesday.
Attorney General Faris Al-Rawi, without citing specific legal precedent, made a chilling declaration.
Continue reading Privacy is our right →