By Gerry Kangalee
Food and Fuel Forum
43 Fifth St., Barataria, Trinidad and Tobago
February 18, 2009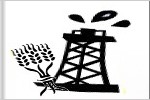 The Food and Fuel Forum of Trinidad and Tobago offers, through the General Union of Guadeloupean Workers, UGTG, its deepest solidarity with the LKP, a grouping of forty seven peoples organisations, the workers and people of Guadeloupe as you pursue your general strike against the extreme exploitation that has been the lot of the masses of people in the French colonies in the Caribbean. We in Trinidad and Tobago also suffer the effects of the capitalist economic crisis and strongly empathise with the people of Guadeloupe.

We support your demands for an immediate increase in wages, pensions, and social benefits. In Guadeloupe where over 100,000 people live below the poverty line in a population of about 450,000 inhabitants. We support your demands for job security and job creation including training for youth, for the protection and improvement of trade union rights and for a decrease in rents.
We condemn the action of the government of France in sending hundreds of armed forces to Guadeloupe in an effort to repress, intimidate and brutalise the people of Guadeloupe. We are particularly concerned because of the massacre of Guadeloupeans by French troops that took place in May 1967 in response to a strike by construction workers.
We call upon the authorities in Guadeloupe to implement the measures demanded by the LKP and to immediately withdraw troops from Guadeloupe.