By Shaliza Hassanali
July 14, 2016 – guardian.co.tt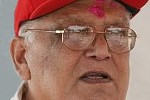 General secretary of the Sanatan Dharma Maha Sabha (SDMS), Sat Maharaj, yesterday launched an extraordinary verbal attack on former prime minister Patrick Manning, describing him as a "racist."
In a harsh assessment totally out of step with laudatory ones heaped on Manning in the week between his death and his burial, Maharaj said he and several members of the public came to that conclusion on a talk show programme on Radio Jaagriti on Tuesday, based on a series of discriminatory practices Manning perpetuated against Indians in T&T while he served as PM.

In retrospect, Maharaj said he felt "hurt" that many of Manning's actions were "racist", unfair and biased against a number of Indians in the country.
"I only spoke about the facts. What I spoke about was his performance as prime minister. I started off by discussing the many discriminatory things he did. As prime minister he acted in a discriminatory manner," Maharaj said in a telephone interview.
Manning, 69, died on July 2 at the San Fernando General Hospital. He had been hospitalised for a lung infection but was subsequently diagnosed with acute myeloid leukaemia, a rare, aggressive cancer of the blood.
The closure of Caroni 1975 Ltd, whose employees were mostly Indians, Maharaj said was one decision Manning made that crippled the lives of thousands of struggling Indians.
"We are now importing sugar while Barbados and Guyana have sugar industries," he said.
Full Article: guardian.co.tt