By Raffique Shah
July 07, 2016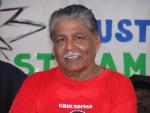 The end, when it came, brought relief from some five years of suffering, and pre-empted additional torture from treatment for cancer, which many have described as being worse than the disease itself.
Patrick Manning's sister, Petronella, who is a medical doctor, said as much in her grief-stricken state. And his wife Hazel, who stood solidly at his side during the worst of times, both physically and politically, absorbed the shock of his death with aplomb.

He could not have asked for a more dignified departure from life. Death is an inevitability that shadows us from birth, but most of us only think about it as we grow older.
I know only too well, having chalked up seventy last March, six months ahead of Patrick's due date. I have come to terms with my mortality to the extent that my family knows exactly how I want my remains to be disposed of, unceremoniously, I should add. But this is about Manning, not me.
He and I had a few things in common besides being born the same year. His father was a oil worker, mine a sugar worker. We will have sat the College Exhibition Examination the same year (1957), and proceeded to secondary level education together in January 1958, he at Presentation San Fernando, I at Presentation Chaguanas.
Our paths in life thereafter took different turns, but as fate would have it, we would meet as very young men, each trying to chart the destiny of the nation from different perspectives, he from the belly of the PNM whose foundations were rocked by the events of 1970, I as one architect of that earthquake that shook the country.
Ironically, it was 1970 that prompted Dr Eric Williams to pluck the 25 year-old Manning from the then Texaco oil refinery and plant him as the PNM's candidate in San Fernando East. Gerard Montano, who had held that seat for the PNM since 1956, was a casualty of the mutiny since the military had fallen under his watch as Minister of Home Affairs.
Manning did not even face the polls in 1971: the boycott of the election by the main opposition parties saw no one being nominated to oppose him. I would first meet him in 1973, and thereafter, whenever we spoke, more so when I was an MP (1976-1981), our conversations were civil.
Manning's real political life began in the PNM's darkest days, the aftermath of the 1986 election which the NAR won 33-3. The PNM was annihilated, humiliated, so much so that almost all of the party's senior officers went into hiding. Many of its supporters had jumped ship. Most people, especially those who supported the four-party, amalgamated NAR (ULF, ONR, DAC and Tapia), were convinced that the PNM could never again rise from the ashes.
Manning, who had retained his seat by a mere 61 votes, could have abandoned ship and cast the PNM's fate to the wind. He didn't. He decided he would break down the old order, recruit new blood, and try to resurrect what many saw as dead. In this herculean task, he was ably assisted by the egocentric leaders of the NAR, particularly Ray Robinson and Basdeo Panday, who were destined to lock horns, wrestle in the mud and bring the hastily-built NAR edifice to ruin.
The implosion came sooner than expected: within a year, Panday and most of his ULF members and supporters left the NAR, with Panday displacing Manning as Leader of the Opposition. That proved to be fortuitous for Manning: he could now focus fully on rebuilding the PNM.
Among his new initiatives was the quest to change the party's image from being Afro-centric to all-inclusive, especially his pursuit and recruitment of Indians. In fact, he would thereafter never let up on this image-change, much to the chagrin of some of the old guard PNMites. The Manning I knew was not racial as many of his detractors insist.
Manning's political career from winning government in 1991 to losing the election in 2010 was chequered. His achievements were many-expanding the downstream energy sector, making tertiary education more accessible to the poor, massive housing estates that the PP inherited, and more.
But he also presided over some wanton wastage of public funds (the rapid rail study and Brian Lara stadium come to mind), and maybe corruption (UDECOTT). There is no evidence that he was personally corrupt.
Worst of all, like so many others who held power, he was consumed by hubris in his final years. He lambasted those who sought to point out his errors. At times he came across as being irrational, so much so his political demise in 2010 was predictable-which was tragic, given what came afterwards.
His epitaph: he was an accidental leader who became the beneficiary of political insurance when other contributors fled the scene of the mishap.