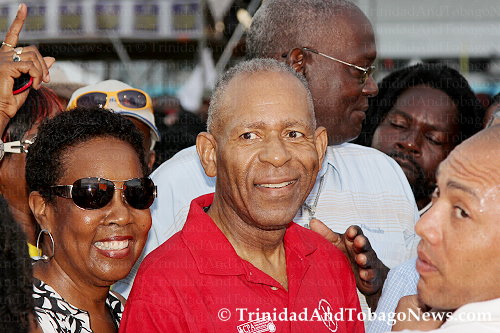 Saturday, July 2, 2016
Former Prime Minister of Trinidad and Tobago, Patrick Manning, passed away on July 2nd 2016.

He suffered a mild stroke on January 23rd, 2012.
He was recently hospitalized on Monday 25th June, 2016, after falling ill. Only one day before his passing on July 1st, 2016, it was revealed that he was diagnosed with cancer, Acute myeloid leukaemia.
Manning would be remembered for his many contributions including serving three terms as Prime Minister and forty-four years as parliamentarian, the longest serving time in Trinidad and Tobago's history.
PRIME MINISTER ROWLEY EXPRESSES CONDOLENCES ON THE PASSING OF FORMER PRIME MINISTER PATRICK MANNING
Today Trinidad and Tobago was plunged into mourning at the passing of our former Prime Minister and former political leader of the People's National Movement, Mr Patrick Augustus Mervyn Manning.
Mr. Manning will be remembered as a visionary, a patriot and a Caribbean man who always strived for excellence. He made the development and well-being of Trinidad and Tobago his priority and in so doing, dedicated his life to serving our twin island state.
During Mr. Manning's tenure as Prime Minister, the country experienced unprecedented growth and development, the benefits from that period are still helping us through the trying times we face today.
Up until his death Mr. Manning remained a source of guidance and inspiration to a generation of national and regional leaders who still sought his counsel even after he left active public life.
To Mrs. Manning and the Manning family, my family and I join you and the rest of the country in mourning his death. I extend our heartfelt condolences and gratitude for sharing him with us, since his service to the nation meant time away from his family.
To the constituents of San Fernando East whom he represented for his entire political career, we extend our deepest sympathy, we empathise with your loss.
In recognition of Mr Manning's passing, flags are to be flown at half-mast at all public buildings and foreign missions from today until the day after Mr Manning's funeral. Subsequent to consultation with the Manning family, it has been decided that a state funeral will be held for Mr Manning, the details of which will be released in due time.
Dr Keith Rowley
STATEMENT FROM THE HON. KAMLA PERSAD-BISSESSAR, SC, MP ON THE PASSING OF MR. PATRICK MANNING
It is with deep sadness that we heard of the passing of former Prime Minister Patrick Manning.
On behalf all in the Parliamentary Opposition and the United National Congress, we send our heartfelt sympathies and prayers to his wife, Hazel, and his sons and close relatives.
Mr Manning was Prime Minister by electoral victory three times in our history – 1995, 2002 and 2007. He is also our longest serving Parliamentarian and one of the longest serving Public Servants in the region.
Indeed, his wife Hazel has always exemplified strength and fortitude in her family, something which was clear throughout their public life.
The grief we share at his passing is, without doubt, grief that will be shared by our fellow nations in the region.
We wish the Mannings God's guidance and support and pray that the former Prime Minister will find a place of joy and rest
Kamla Persad-Bissessar, SC, MP
Leader of the Opposition
02nd July 2016