By Ria Rambally and Rosemarie Sant
Monday, May 23, 2016 – guardian.co.tt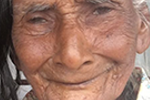 As the debate rages on over laws on child marriage, there is scepticism from an elderly woman who was married at the age of nine, before there were even any marriage laws in this country.
Today Dularie Baboonie Kanhai says she had no regrets about her marriage, she and her husband had a good life which produced ten children and a happy home. But she is sceptical whether young people now have the stamina and the mindset to get married at that age.

Born in Felicity, Dularie says she is 101 years old, which means she was born in 1915. She got married in 1924 at the age of nine. Her husband, of Cane Farm, Tacarigua, was 12 years old when they got got married.
Her hands are worn from years of hard work in the sugar fields alongside her husband, but she still has a magnetic smile and a memory which surpasses some younger than her. She laughed as she recounted her story.
She said her father's father, her Aja, wanted her to go to school. But her mother's father, her Nana, did not, insisting that it was time for her to get married, because he said "if children go to school who will marry them?" She did not know the boy and he did not know her. Neither the groom nor the bride saw each other before the wedding.
She got her first glimpse of the boy she was getting married to on the day of the wedding.