Express Editorial
March 20, 2016, 9:49 pm AST – trinidadexpress.com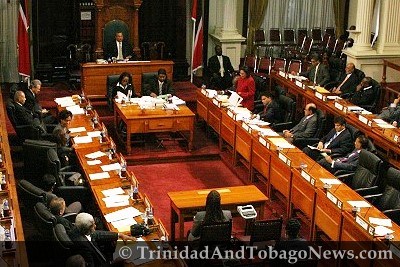 IT is disingenuous for Members of Parliament to be offering to refund salaries paid to relatives in breach of parliamentary rules, to quibble over definitions of employment, to suggest that new rules should not affect old behaviour or to dismiss them as mere guidelines. The fact that one of those MPs is Wade Mark, former speaker of the House under whom the parliamentary rules regarding employment at MPs constituency offices were reviewed and changed before being implemented in the current term, is scandalous.

The public expects a higher standard from the people to whom it has charged the responsibility for making laws. The very least expected of them is to observe the rules of Parliament and the laws of the land, both of which prevent members of Parliament from using public funds to provide employment for defined categories of relatives.
It is patent nonsense for any MP to argue that the new parliamentary rules should not apply to relatives not previously included in the category of relatives that MPs cannot employ. When the rules change, behaviour is expected to change. Once they were given the new rule book, it was the responsibility of all MPs to ensure that their actions were compliant.
It is not only the rules of Parliament that forbid incestuous employment. Under the heading of "Code of Conduct", the Integrity in Public Life Act is clear in stating that public officials covered by that law shall not use their office for the "improper advancement" of their family's personal or financial interests.
The principle contained in the parliamentary rule is sound and consistent with parliamentary best practice in saying that when it comes to the use of public funds, those who hold high public office must avoid conflicts between their private and public interests.
As it stands now, every MP in breach of the rules must be brought to account. This means that Parliament itself must take action by first determining which MPs have flouted the new rules. What precisely is the penalty for this is to be determined but, at the very least, one expects that all persons whose employment runs afoul of the new rules will be terminated as a result of Parliament refusing to disburse payments to them. Presumably, if an MP wants to keep such person in employment, they would have to be paid either by the political party or out of the MPs personal finances., not from public funds.
The Integrity in Public Life Act should be invoked in this issue if only to bring legal clarity to the issue. Procurement legislation, which is expected to come into effect later this year, will offer further protection to the public purse from the conflict of interest that has been presented in this case.
Our MPS need to recognise that the people of Trinidad and Tobago are subscribing to a new order of transparency in the use of public funds. No amount of politicking will change this fact.
Source: www.trinidadexpress.com/20160320/editorial/getting-serious-with-errant-mps