By Raffique Shah
October 12, 2015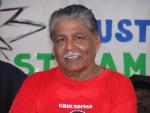 I switched on my television last Friday just in time to see and hear a stern-looking House Speaker Bridgid Annisette-George say to former minister and current MP for Caroni Central Bhoe Tewarie, "You have three seconds to wrap up…starting now!"
I did a double-take, wondering if I hadn't mistakenly tuned in to the Western channel rather than Parliament, some wild-west movie in which the "fastest" gunman in town gives an impossible ultimatum to his adversary.

But the be-robed Speaker confirmed that I was indeed watching the Budget debate in Parliament, and, sporting a Lee Van Cleef look, she repeated: three seconds!
Bhoe seemed confused, not knowing what to say or do, when Ms George again delivered her ultimatum, by which time I calculated almost three minutes had elapsed. Tewarie took his seat, muttering something about being "unable to function in this House under the PNM", and I wondered what on earth I was witnessing.
Now, I admit I had not listened to all the proceedings before that "gun talk", catching some of what Opposition Leader Kamla Persad-Bissessar had said earlier, so I have no idea what cardinal parliamentary sin Bhoe committed to warrant such treatment.
It seemed to me, though, if he had merely exceeded his allotted time, the Speaker could have simply said, "The speaking time of the Honourable Member has expired." That, while on her feet, would have signalled that he remain seated and another MP be invited to make his contribution.
That showdown at high-afternoon, which came amidst a continuous cacophony that accompanied all contributions on both sides of the House, set me thinking: is Parliament bottoming out? Have we reached the nadir, a reflection of the lawlessness in wider society, a complete breakdown in discipline that even children are copying?
Have we lost all sense of civility?
I can well imagine that Speaker Bridgid (if I may take the liberty to so address the lady) must be disturbed by the street-market-type behaviour that many members of the now not-so-august Chamber display, and she wants to stamp her authority early o'clock.
But she can do that with some class that will distance her from, say, Wade Mark, who was the worst Speaker in the history of our Parliament, if not the world.
I shall not recount Mark's many sins, his hostility towards the opposition and partiality towards those who elevated him to high office.
To underscore my assessment of his stewardship, I need recall only two injustices over which he presided.
He allowed Vemella Alleyne-Toppin to slander then Opposition Leader Keith Rowley in the vilest way without so much as questioning the veracity of what she said. Indeed, even if what she said had an iota of truth, Parliament, with its privileges, was not the place to do it.
Then there was the motion to suspend Rowley from the House that he entertained, a PP-injustice that came to haunt them when Rowley returned to the Chamber triumphantly as Prime Minister.
Mark did not counsel his comrades that it was an abuse of their parliamentary majority.
So the Speaker Ms Bridgid should not seek to emulate is Mark, who, I might add, will have treated a PNM member the way she treated Bhoe.
As someone who has taken a keen interest in the politics of this country for almost half a century, and who was an MP for five years when the legendary Arnold Thomasos was Speaker, I can say without fear of contradiction that the impartiality of the presiding officer, be it Speaker or President of the Senate, is a myth.
The great Thomasos was as biased as one could expect, given that he was appointed by the PNM from its ranks, and was fiercely loyal to Dr Eric Williams.
But he knew how to appear to be impartial, which is what mattered for me, and I imagine others. The one occasion on which he was patently unfair to me resulted in the only time in his career that he was roundly cussed.
But he was man enough to apologise to me, as I did to him: ask Kamaluddin Mohammed, the only other living witness to that episode.
Opposition members must feel they are being treated fairly, which is as good as it gets for them. In the end, the "ayes" will always have it.
Besides the perception of impartiality, presiding officers, in demanding respect from members, must in turn show them respect.
It is in that context I found Speaker Bridgid's treatment of Bhoe distasteful.
All members of Parliament, in their interaction with each other, need note that the electorate is unforgiving, changing governments every five years.
Today you are up, tomorrow you are down-as many PP overlords (and ladies) of yesterday still cannot come to terms with.