By Raffique Shah
April 26, 2015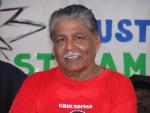 Trust Trinidadians, or more accurately Trini-politicians, to engage in verbal battle over almost every issue—from the distribution of pampers to mothers of newborn babies to building a multi-billion-dollar causeway from Port of Spain to Chaguaramas.
Most people never heard the word "causeway" before Prime Minister Kamla Persad-Bissessar uttered it at a UNC rally in Fyzabad last week.

Even as Partnership supporters applauded wildly and noisily, most of them had no idea what the hell she was talking about.
But if Kamla says "causeway", then it must be something beneficial to the party if not the country.
And no sooner had she touted the idea as if it originated in her imaginative mind than Colm Imbert shot up to claim PNM ownership of the concept, pointing out that it was among his party's highways proposals in its 2010 manifesto.
Before you could say "traffic jam", every John, Dick and Harrilal was debating or commenting on "de causeway".
You think these people are for real?
It is they, meaning successive governments, who created the traffic nightmare that is getting into and out of Chaguaramas and neighbouring communities, and now they want to lay claim to solving the problem—with our money, of course.
Let me at the outset say that Chaguaramas is one of the most picturesque parts of Trinidad, with huge potential for integrated development.
I shan't dwell on its history, on its acquisition by the Americans during the Second World War, on the battle to reclaim it, or on the infrastructural works that the Americans conducted during their occupation of the peninsula.
Suffice it to say that I was among the few hundred Defence Force personnel who lived on "the base" during the period when it was in its pristine, natural glory.
Then, its emerald forests teemed with wildlife, from dinosaur-like iguanas and giant macajuel snakes to howling monkeys, ocelots, armadillos, huge spiders, scorpions and centipedes, and more, much more.
The mostly placid waters in its many bays were blue to aquamarine, and perfect for swimming.
Because so few people had access to the area, fishing was good.
The more enterprising of the troops would simply dive and surface with big lobsters.
It was a nature-paradise.
For obvious reasons, that pristine state could not last.
Development was bound to come, the only question being in what form it would.
I have no doubt that the early entrepreneurs had the blessings of the ruling PNM.
By the 1980s, some planning had taken place and Chaguaramas became a haven for "yachties" and associated marine activities.
But from as far back as in the 1960s, the junior officers of the Regiment had documented our view that while the peninsula was ideal for the Coast Guard, it was not suitable for the land forces.
Its fundamental flaw was the one-route-in, one route-out, and that lone road being susceptible to landslips at numerous points, and strategically an obstacle course for the military.
We had recommended the removal of the army's main base from Chaguaramas, and that Government consider a new coastal road from the base to Port of Spain.
Many of the Sandhurst graduates had travelled in Europe and seen such highways, especially in Holland.
We did not envisage the transformation of Chaguaramas into and entertainment and recreational epicentre, with the attendant traffic woes that, by the turn of the century, had become a daily nightmare for people who work there and the many thousands who patronise the establishments, beaches and parks.
Today, gridlock is commonplace.
Enter the causeway, a nice-sounding solution to the problem that the politicians are selling to their supporters without a hint of its probable cost, construction timeline and environmental impact.
The project closest to what might link Chaguaramas to Port of Spain I've come across online is the 10.7-mile, six-lane Vasco da Gama bridge near Lisbon, Portugal.
It was built in three years (1995-1998) using four contractors working simultaneously.
The US$1.1 billion project was designed to withstand winds of 155 mph and earthquakes of the strongest-imagined magnitudes, with a life-span of 120 years. The deepest foundation piles (7.2-ft diameter) were driven 312 feet under mean sea level. Understandably, it's a toll road.
Motorists pay €2.65 and truckers €11.55.
On paper, and I imagine on the ground, this seems to be the answer to our Chaguaramas traffic woes…but wait.
Can we see any Government bringing in a similar structure at that modest cost and within such short time?
We'd be lucky if it stays under US$3 billion and is completed in ten years.
Assuming the Government, whichever party is in power (both say they are committed to a causeway), delivers trumps—within budget and time, and meeting the requisite specifications—then imposes a toll for usage (say $5 per crossing), can you imagine the Trini reaction?
"Why de @$%& ah mus' pay to use mih own road in mih own country? Yuh 'ent see dem nastiness mad?"
Maybe I am too cynical, but more and more I'm coming around to the belief that people get the government they deserve. I hear so much fluff from political platforms, and I see so many people falling for it, really, I think they deserve each other.
That's why the causeway may be a lost cause before a pile is driven.