By Raffique Shah
April 19, 2015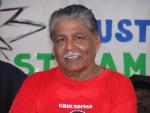 On the morning of Monday, March 23, when I became aware of the massive traffic gridlocks in several strategic arteries across the country occasioned by the police purportedly conducting legitimate roadblocks, my immediate reaction was, "This is mutiny!"
Later that evening, when television footage showed police officers of varying ranks holding tens of thousands of law-abiding motorists and commuters hostage, trapped in scorching heat and toxic exhaust fumes with no chance to escape, I thought that by the following morning I would wake up to hear that scores of police officers had been suspended from duty pending investigations into their misconduct.

Instead, what followed were differing explanations for the mutiny.
Executive members of the Police Social Welfare Association, which is locked in battle with the Chief Personnel Officer over increases in wages and salaries, said they had nothing to do with the exercises that crippled the country for that day.
Later, the acting acting (no joke intended) Commissioner of Police, Ann-Marie Alleyne-Daly, publicly apologised for the disruption and torture her officers inflicted on the people that the police are duty-bound to protect and serve. And even as the Ag CoP appointed ACP Vincel Edwards to conduct an enquiry into sordid affair, many police officers were sniggering, whispering among themselves, "We show dem what police could do!"
ACP Edwards' task was not an easy one, as he explained in his succinct report. He was sure to encounter hostility from his fellow-officers, from those very junior to him to his seniors, as he explained. That he was able to produce a report in quick time is a miracle given the stasis that has long engulfed the Police Service.
He coined the term "malicious obedience" to describe the cover of "total policing day" that many of the officers who were interviewed used to justify their participation in the nationwide "lockdown". And he surmised that for six hours that fateful morning, "First Division officers in charge of six Police Divisions, and Second Division officers who were in charge of six named police stations lost control of their divisions and stations respectively to a small group of junior officers…"
In other words, superintendents, inspectors and sergeants were acting on orders from corporals and constables—orders that resulted in tens of thousands of citizens being imprisoned in vehicles.
That, my friends, was a mutiny—and I say this as the Mutineer-General of Trinidad and Tobago, the junior officer who led some 300 soldiers in a mutiny at Teteron Barracks exactly 45 years ago.
Now, this may come across as a case of Satan correcting sin.
It is not.
I do not have the moral authority to condemn anyone who stages or participates in a mutiny.
But I have the authority to say that mutineers must face the consequences of their actions, be it dismissal from their jobs, jail or death.
My merry men and I spent 27 months "inside" for our actions (Hola, geezers out there in Mayaro, happy anniversary!) .
But back to the present—and the future.
Besides the breakdown in discipline in the Police Service, which did not happen overnight, there is the critical question of the intelligence agencies that ought to have known what was being planned for that Monday morning, and to have informed the authorities, among them the Minister (Ret Brigadier Carl Alfonso), the acting CoP, and Chief of Defence Staff Major-General Kenrick Maharaj.
The Special Branch, the main intelligence unit in the service, either knew nothing, or if it did, failed to act on the information. Worse, according to the Edwards report, one sergeant donned uniform (hence broke his cover) and joined in torturing motorists. And the female head of the branch "pulled rank" on the investigator.
Such abuse of rank to stymie or abort internal investigations is not new to the Service. Back in the 1990s when the Government brought in Scotland Yard officers to investigate irregularities in the Service, the "Yardies" ran into several stonewalls. Police officers chased them from stations and cussed their "mudder". One very senior officer brandished his pistol and threatened them.
And lest we forget, police officers, armed and in uniform, staged a rowdy protest march around the Red House calling for the dismissal of the then Minister of National Security, Russel Huggins. Not one was disciplined and the frustrated "Yardies" fled back to London.
That is "what police could do" and get away with, even as they beat, arrest and charge ordinary workers and citizens who stage peaceful protests.
Further on intelligence (or lack thereof), whatever happened to the highly-touted National Operations Centre when the country was caught in a gridlock? Were its principals victims of the "total policing" action, trapped in traffic?
Commander Garvin Heerah boasts of the NOC's immense capabilities, its monitoring of the country's air, sea and land spaces. With scores of CCTV cameras strategically located across the country, and monitored around the clock by trained personnel, one would think that the police mutiny would have been noted from early o'clock and nipped in the bud.
What Mutiny Monday exposed is that for all the money invested in the fight against crime and in securing the country, we are no safer now than we were in 1970 or 1990.