By Raffique Shah
March 22, 2015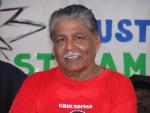 It's amazing how the 2015 general elections campaign is derailed by extraneous matters that have no bearing on the real issues that should under discussion.
With oil and gas prices trending lower, hence a projected shortfall in revenue of more than $7 billion for the current fiscal year, with the national debt rising as a consequence, and with tens of thousands of public sector workers, among them police, fire and prisons officers, clamouring for increased salaries for a period that has expired, the politicians are distracting the electorate with race-herrings and talk about dog and "cyat".

Really, is this what we are reduced to at a time when countries across the world are forming new economic alliances, seeking to secure their nations' future in a ever-changing global environment?
A man named Jaishima Laladharsingh, who, but for a handful of his relatives and tribe, nobody knew until his racial rant was made public two weeks ago, has become the focus of attention for using the word "nigger". Why were people shocked by his liberal use of a derogatory word that many believed had been cast into the dustbin of history decades ago?
If anything, Jai must have been shocked by the outrage he triggered, he must have wondered why all the fuss. Worse, Minister Bhoe Tewarie fired him from the CDA board when, for years, the UNC if not the COP, ought to have known that no censure or punishment can alter his behaviour.
According to an Express report, back in September 2013, in what was described as a "closed UNC group", he advised his "apan jhat" brethren to summon groups of "niggers" to attend a protest at City Hall that was being staged by the Partnership Government. "…My pick would be for the niggers…they pushy enough and gullible…it would not take much to sway them…it would also enhance the look of the PPG having the African members protesting…"
Of course, the Prime Minister knows him not, nor do her ministers, so we are left to wonder how the hell he ended up on the CDA Board (which is appointed by Cabinet), or in senior executive positions on other State entities.
But why fire him now for something he did two, three years ago? If Jai is so minded, he can take the Government before the Equal Opportunities Commission for rank discrimination. Because I am sure he can finger scores of officials who may be like-minded when it comes to race, and who continue to peddle their poison quietly, not online as he stupidly did, but quietly, in the comfort of their executive suites.
The other distraction is a one-liner from Keith Rowley in which he vowed to "ignore she (the PM's) cat". I saw it on television when the media first carried the video-clip of the PNM's meeting in Brazil village, and I did a double-take, what with the vice in my head, as Sparrow would say, then my mind moved on. I could not imagine that in less than 24 hours, the Partnership's campaign machinery would seize "cat", re-brand it, and transform it into the Elections Road March. But they did, very stupidly in my view. Now, as the campaign heats up, Rowley's fleeting quip will rival Lord Blakie's "Hold de Pussy". I envisage hordes of PNM supporters putting music to the six lines and singing and dancing to it on the campaign trail…all thanks to the Partnership's advertising geniuses.
Let me say that I condemn all racist and sexist remarks wherever and whenever they are used. And even though I am no prude, I denounce vulgarity whether it's on a Carnival stage or a political platform. In this regard, I think about the children who are watching or listening, although I am aware that many of these children can teach me a thing or three about sex.
On the 2000 elections campaign trail, Kamla and Ganga Singh staged a virtual sex-skit on the UNC's St Augustine platform about Ganga "dropping pipe all over the country", and Kamla relishing in "receiving pipe", although she added that she knew only about "Mr Bissessar's pipe", I wrote (of Kamla), "…Listening to this affable lady publicly pronounce on the 'size of pipe' Ganga dropped…I couldn't believe she would have jumped into the gutter with Ganga…"
I noted then that her colleagues on the platform, PM Panday among them, thoroughly enjoyed the two ministers' performance. And, I observed that none of the normally vocal women's organisations—the UNC women, the Hindu and Muslim women, CAFRA—criticised the vulgarity.
In contrast, today, many of the then silent, suddenly sanctimonious women's organisations are pouncing on Rowley for his use of one word, "cat", which, upon re-examination, was not necessarily used in a vulgar context.
More importantly, there are critical issues that those contending for power need to address now, given the state of the economy and the vulnerabilities we face. Instead of focussing on "cat", electors should tell the politicians that they will not buy "cat in bag".