By Andre Bagoo
October 31 2014 – newsday.co.tt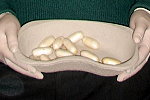 ATTORNEY General Anand Ramlogan yesterday said he was "gravely disturbed" by the lack of charges in relation to a report of a doctor failing to notify law enforcement authorities about cocaine said to have been surgically removed from the body of a patient. He did so as he called on Acting Police Commissioner Stephen Williams to continue a probe into the matter.

On Wednesday, Williams said Deputy Director of Public Prosecutions Kathy Ann Waterman-Latchoo had advised that there was "no evidence at this point in time which can be used to pursue prosecution against the surgeon nor the patient." Williams said the matter was "thoroughly investigated over several months by the Organised Crime, Narcotics and Firearms Bureau." However, he said the police would continue to explore the matter.
At yesterday's Cabinet media briefing, Ramlogan stated, "I find it an entirely unsatisfactory and unacceptable state of affairs…I am gravely disturbed that this can occur." He said the precedent being set was not in the interest of the country.
"This sets a most dangerous precedent for our country. It involves a known method of drug transfer," Ramlogan said. "I therefore would ask that the (Acting) Commissioner of Police continue the investigations, with the advice of the Office of the Director of Public Prosecutions (DPP)." He stated the country risked becoming a laughing stock.
The Attorney General further said doctor-patient confidentiality was not a shield to criminality. He said, "If a doctor uses patient confidentiality as a shield for criminal wrongdoing, then that must be a cause for concern. Doctors are obliged to report criminal offences, whether it is a case of a child showing signs of sexual or physical abuse or whether it is cocaine being removed from one's stomach."
Ramlogan continued, "You ought to inform the police, retain possession so that the due process of law and order can take its course….It would seem here that there was a complete abdication of responsibility."
He noted the facts of the case remained in dispute with several unanswered questions. For example, he asked, was full and frank disclosure made by the patient before the surgery? Ramlogan also stated there were certain expectations of the Medical Board of Trinidad and Tobago.
"One would have expected that the medical board would have treated this matter with the urgency it requires," he said. He dismissed as an "excuse" the argument that a doctor may be fearful for their own life, stating all citizens face the same fears but are nonetheless obliged to fulfil their civic responsibility.
"I do not accept that as ample justification for what transpired in this matter," the Attorney General said.