By Rachael Espinet and Clint Chan Tack
May 21, 2014 – newsday.co.tt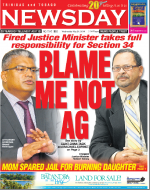 IN a surprising turn of events yesterday former Justice Minister Herbert Volney apologised to Attorney General (AG) Anand Ramlogan for alleging that he was responsible, in any way, for the early proclamation of Section 34 of the Administration of Justice (Indictable Proceedings) Act 2011
In offering this apology to his former Cabinet colleague, Volney accepted full responsibility for what has become known as the Section 34 fiasco.
Volney made these statements at a joint news conference with Ramlogan, at the Ministry of the Attorney General, Cabildo Chambers, Port-of-Spain.

Coincidentally, this burying of the hatchet between Volney and Ramlogan took place exactly one year after Opposition Leader Dr Keith Rowley raised questions in Parliament about senior government officials being implicated in the Section 34 fiasco. The contents of email documents which Rowley referred to when he raised those questions, are still being investigated by the Police Service and the Integrity Commission.
At the start of the briefing, Ramlogan announced that he and Volney had agreed to settle a legal matter which he had brought against Volney for defamation of his character with respect to Section 34 in February. Volney had alleged at that time that Ramlogan was the chief architect of a conspiracy to get him out of office.
Ramlogan said as part of this agreement, Volney had agreed to pay an undisclosed sum of money to an undisclosed charity of his choice.
Apologising to the AG, Volney said, "One must never be too big to admit when one has faulted in life and I accept the responsibility for what I said. It was unfortunate, incorrect, not malicious but it could have affected persons in a way it was not intended. Let me make it abundantly clear to all that I take full responsibility for Section 34."
Volney said given his background in the criminal justice system as a former prosecutor and High Court judge, he was the "one who not only helped to calibrate Section 34 and to bring it about, but also to have it amended in the Senate during the course of the debates and also to have it at the time when it was proclaimed."
When the Administration of Justice (Indictable Proceedings) Bill was passed in the House of Representatives on November 18, 2011, Volney responded to Opposition concerns about the early proclamation of Section 34.
The clause proposed the dismissal of cases before the courts for ten years. At the time it was not determined from what date the ten years ought to be determined. "While this measure can work without rules because it establishes a framework, I can assure Members opposite that nothing is going to be proclaimed before all the necessary measures required to make it succeed happens," he said then.
The bill was passed in the Senate on November 29, 2011while the country was under a state of emergency. Before the midnight curfew, Volney tabled a new Section 34, dating the ten years from the date of alleged offences.
No senator spoke or objected to this amendment at the committee stage. However, nearly a year later it emerged that Section 34 had been assented to by then President George Maxwell Richards on August 31, 2012, when the country was in the midst of celebrations for the 50th anniversary of Independence. Reports surfaced that the law had implications for the corruption charges stemming from the multi-billion dollar Piarco Airport project against businessmen Ishwar Galbaransingh and Steve Ferguson, known financiers of the United National Congress.
Government was alerted by the Office of the Director of Public Prosecutions and took steps to repeal the controversial law. Galbaransingh and other persons who had ten-year-old cases appealed in the High Court the repeal of Section 34. That matter is still ongoing. Prime Minister Kamla Persad-Bissessar subsequently fired Volney as Justice Minister on September 20, 2012 for giving the Cabinet improper advice regarding the proclamation of Section 34.
Yesterday, Volney stressed that Ramlogan, who as AG is the legal adviser to the Cabinet, had nothing to do with Section 34 other than being a parliamentary colleague who assisted him during the Senate committee stage in November 2011 to bring about the necessary changes to the clause.
Volney said it "was obviously an oversight and without the necessary information from the Office of the Director of Public Prosecutions (DPP)," he was unaware of the fallout which could occur.
"I should have undertaken more careful consideration of the proclamation, which I did not," Volney added.
Stating he failed the Cabinet in this regard, Volney said, "I could well understand why the Prime Minister acted as she did."
Declaring that he wanted to put the "Section 34 bogey of this Government behind the country so that we could move forward," Volney said he believed he could still contribute to improving the criminal justice system "on a strict extra judicial or juridical basis" to help bring crime in the country under control. He later told Newsday he was "retired" from politics and had no desire to rejoin the United National Congress (UNC) or the People's Partnership coalition which the UNC leads.
Volney was elected MP for St Joseph on a UNC ticket in 2010. He was expelled from the party and the Parliament and his seat was declared vacant in October 2013, triggering a by-election in November won by the PNM's Terrence Deyalsingh.
After apologising to Ramlogan, Volney turned to his former Cabinet colleague and asked if they should shake hands. The AG agreed and they shook hands in front of the assembled media personnel. Saying he was pleased to have reached a mutual settlement in the defamation case which he brought against Volney, Ramlogan said, "As you are aware, this matter has been in the public domain for some time concerning the issue of Section 34 and my alleged role and involvement in that matter."
The AG said he has steadfastly maintained that he did nothing wrong in that matter and pointed out several times that he "had precious little to with it."
Ramlogan said notwithstanding his defence, there were attempts by some persons "to create political mischief and to maliciously try to spin that Section 34 tag on my office and on me personally." He reiterated that he "had no role or involvement in that matter" because it was not a matter that fell within his ministerial jurisdiction.
Persad-Bissessar said Ramlogan was out of the country when a meeting took place with Chief Justice Ivor Archie, Volney and other persons at the Hall of Justice on July 24, 2012 pertaining to the proclamation of the Administration of Justice (Indictable Proceedings) Act. Ramlogan, according to Persad-Bissessar, returned to TT on August 4, 2012. Volney brought a note to Cabinet on August 8, 2012 to partially proclaim Section 34.
Cabinet gave its approval on August 16, 2012 and then President Richards signed the proclamation, putting Section 34 into effect on August 31.
Asked to quantify the undisclosed sum of money that was agreed to between Volney and himself, Ramlogan said, "I have asked that the damages and compensation that has been agreed upon between the parties be paid to an undisclosed charitable organisation of my choice and that is by special request by the particular charity having regard to the nature of the work that they do."
The AG said the resolution of this matter between Volney and himself, does not concern the Prime Minister. "This is a matter that I have personally brought in my own personal capacity as Anand Ramlogan, an AG, to sue for defamation of character," he said. Ramlogan explained that he did not consult with Persad-Bissessar in this matter but acted on legal advice.
He stressed this legal advice did not involve the expenditure of any funds from his ministry or State funds of any kind. "This is a matter that I have brought personally. This is a matter that I felt aggrieved by the comments that were made," Ramlogan concluded.