HEARTBROKEN
By Newsday Staff
May 15, 2014 – newsday.co.tt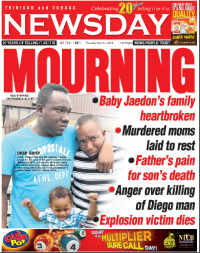 The mother of a 17-month-old boy is today standing by the child's grandfather who forgot the baby in his car at work, on Tuesday, only to find him dead when he returned to the vehicle hours later.
"A most wonderful grandfather, the best grandfather in the world," is the praise Masika Wharwood had yesterday for her father-in-law who had her son, Jaedon Cudjoe, in his care and is inconsolable over his death.
Winston Cudjoe, 56, had placed his grandson in a car-seat in the back seat of his Nissan Teana and left their home at Aquat Village, Penal to take the child to stay with a relative, before heading to work at a division of State-oil company, Petrotrin in Penal, on Tuesday morning.

But Cudjoe went straight to work, arriving at about 7 am, forgetting he had Jaedon in the back seat. The joy Cudjoe would have felt on learning he had received a promotion, heading to collect his letter at Petrortin Santa Flora branch turned into horror when he returned to Penal, at about 4 pm to discover the baby dead in his car.
It is a tragedy which his family, especially Jaedon's mother do not blame him for even in their deep grief.
Wharwood told Newsday she wanted the world to know her father-in-law is a loving, wonderful person who has not stopped crying and she is now worried about his welfare.
On Tuesday, police said Cudjoe had told them he had nothing to live for now that his grandson is dead.
His grandchildren are his life, Wharwood said, and he always went in search of them during visits to the home.
"If they were asleep, and he couldn't play with them, he would be disappointed," she told Newsday, speaking of Jaedon and an older daughter.
She said people were saying all sorts of things about Cudjoe and the family without knowing the facts, responding to many comments on radio talk shows that they were careless and irresponsible with Jaedon's care.
Wharwood said on Tuesday morning, her father-in-law took Jaedon to drop him off at his aunt's home on his way to work at Petrotrin in Penal as he has been doing for the past few months.
He was accompanied by the baby's grandmother whom he dropped off first at a location.
She said on his way to work, he encountered traffic and changed his route driving along another road. She said taking the detour caused him to forget he had not dropped off Jaedon.
Also, while on his way, Cudjoe got a call that he was promoted to a supervisor and was told to go to the Santa Flora office to collect the letter.
She said when he parked the car it was not even locked as someone was supposed to collect some tools from him.
Reports are that Cudjoe almost collapsed when he saw Jaedon motionless in his car seat. Wharwood said Cudjoe is hurting so much and blaming himself that she is fearful of what could happen to him. "I don't want to lose him too, he is a wonderful person," she cried.
Earlier yesterday, Wharwood, Jaedon's father Fergus Joel Cudjoe and other relatives were at the Forensic Science Centre, St James for the autopsy on the little boy.
Pathologist Dr Valery Alexandrov confirmed Jaedon was severely dehydrated, suffered from multiple haemorrhages, and there were no sign of fluid in his body; all symptoms consistent with hyperthermia.
"People are questioning us as parents, and they are questioning Jaedon's grandfather as well, saying that we are bad parents, but we just want to be left alone so we could mourn in peace," Wharwood told reporters at the Forensic Science Centre.
An uncle, Andel Cudjoe, and a great uncle Renault Daniel, were with the baby's parents and had to support them, especially his father, Fergus Joel.
They too said no one is placing blame on anyone for Jaedon's death and their hearts go out to his grandfather.
Last evening, the family went to the Penal Police Station to give statements to investigators.
In the wake of this tragedy, TT Police Service Public Information Officer, Inspector Wayne Mystar yesterday appealed to members of the public to pay special attention to their children. Speaking at the weekly press briefing, at the Police Administration Building in Port-of-Spain, Mystar said he did not want to make any pronouncements on the investigation.
"We don't want to be premature, when making a pronouncement like that but we will await post mortem results, enquiries will be continuing, statements would be recorded and investigators will keep the members of the public updated on what will take place," he said. Sgt Ramsingh of the Penal Police Station is continuing investigations.
Petrotrin in a response to the tragedy said it has been providing counselling to the bereaved family since Tuesday.