STRANGLED
By Janelle De Souza
Tuesday, April 15 2014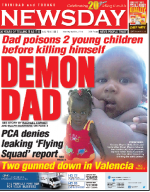 SENIOR Forensic Pathologist Dr Valery Alexandrov yesterday revealed that Keanna Mayers and her brother Omari, were strangled and not poisoned as was initially thought. Alexandrov came to this conclusion after autopsies were done at the Forensic Science Centre St James.
In a brief interview, Alexandrov told Newsday "out of an abundance of caution", he also sent tissue samples for a toxicology test to find out if poison was involved.

Next month, Keanna and Omari would have been three years and one-year-old respectively. They were killed by their father Barry Karamath, 33, who then committed suicide by drinking weedicide on Saturday night into Sunday morning.
Full Article : newsday.co.tt
***
DAD POISONS TWO KIDS
By Rachael Espinet and Ralph Banwarie
April 14 2014 – newsday.co.tt
No one knows what possessed Barry Karamath, 33, to kill his two young children — three- year-old Keanna Mayers and her ten-month-old brother, Omari, who was fondly called "Bubba" by his family.
The toddlers were poisoned by their father, who later drank the same poison. All investigators have to go on are seven blood-curdling text messages Karamath sent to the children's mother Okilia Mayers, detailing the murders.
"All unfair games do get played out. Live your life Killa to all the best now. I hope afterwards its you would chase but at the end is up to you was the biggest mistake of my life, but say what that police thing I know was yours," one message said.
"In time to come be straight and honest with those who are with you. I gone," another message read.
"Remember what I said from before don't cry for me girl."
At that time the messages became disturbing.
"Anyhow I deal with Bubba after how you sent the police by me tonight. I going and deal with Kele and myself now, and just remember is you cause that. I did it knowing that, fair well," one message said.
"That was her last breath anyhow. In time to come be straight and honest with those who are with you. I gone… Remember what I said from before don't cry for me girl…Don't answer, I going and deal with Bubba first…Bubba like a like a little stupid but Keke has a little idea something's wrong, but say what is a fed up scene," read the remaining five messages.
"He is a demon. He had to be a demon to do that to them," a relative of Mayers told Newsday yesterday.
"The children lived with their mother at Ninth Avenue, Barataria. Karamath, who lived in another part of Barataria, in 2011, appeared in a Scarborough, Tobago, court charged with possession of $1 million worth of cocaine. The couple were separated. Karamath had the children for the day and at about 7 pm on Saturday, kept sending text messages that he was going to kill the children and then kill himself," a relative at Mayers' Barataria home said yesterday.
The relative said Karamath was abusive towards Mayers and the children.
"We told him to bring the children if he does not want to keep the children. He said that how if he is going to dead then he is going to take his children with him. After eight he started to send texts," the relative said.
The bodies of the three were found in a bamboo patch at Mora Trace, Matura, Toco, by a pumpkin farmer.
The two children were found on a pink blanket. Omari was found lying in a fetal position in her pampers and a multi-coloured vest while Keanna was on her back, clad in a blue skirt and top.
Karamath was discovered lying on his stomach, dressed in a blue t-shirt, pink pants and black and yellow Nike sneakers on his feet.
Police found a gallon bottle of "All Grass" weedicide next to the three bodies.
Luke Hamiliton, the pumpkin farmer who found the bodies, told police he last saw Karamath and the two children wandering around Mora Trace, at about 9 pm on Saturday.
He said Karamath told him he came to meet someone for a bush bath, but was told that the person he came to meet had died.
Hamilton said Karamath told him he was waiting on someone to take them home. Karamath admitted he was having personal problems and did not know what to do.
Hamilton left the three and while looking out of a window from his home, saw Karamath spreading a blanket for the children after they had a bath in the nearby river.
He said when he woke up at about 6 am yesterday, he saw the three lying down on the blanket and a bottle of liquid next to them.
As he approached the bodies, he saw they were frothing from the mouth.
He immediately called the Matura police, who responded within minutes.
Mayers, who came with other relatives about four hours later, begged to see the bodies and was asking the names of the children. She said Karamath was very possessive. She screamed for her children and had to be taken away by her mother, Molly Castellano as she begged to hold her children.
Castellano said very little, only that she was in shock.
A party of police officers led by ASP Aroon Ramkahelawan, Ag Insp Lutchman, Cpl Hernandez and PC Mootoo were on the scene of the murder/suicide yesterday.
Cpl Mohammed of the Homicide Bureau is continuing enquiries.