By Raffique Shah
December 29, 2013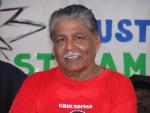 Politically, 2013 will be remembered as the year of unprecedented multiple elections. It was the year that marked the beginning of the demise of the People's Partnership; the year in which Jack Warner's meteor burned brightly before it died an unnatural death; and the year that saw the People's National Movement (PNM), for yet another time, rise, Phoenix-like, from the ashes of defeat, to position itself for a return to power.

Yet, except for politicians and party animals, few would recall the interminable dirty dancing that passed for campaigning, the hundreds of millions of dollars that the United Natioanl Congress (UNC) and the Independent Liberal Party (ILP) in particular blew as they wooed the electorate, and the promises made that will never be fulfilled.
By the time we ring in the New Year, we will have forgotten the opening gambit last January when Tobago took centre stage in a way it had never done in its history. Government relocated from Port of Spain to Scarborough. Cabinet ministers and party hacks occupied every luxury hotel suite and commandeered all available rental vehicles.
Command stations, operations centres and logistics coordinators transformed Tobago from idyllic to frenetic. This was war, or as close as the paradise-isle would come to it.
When the smoke cleared, only the putrid decay of a rotting TOP remained as a reminder of the delusions of grandeur of one man. As she withdrew her cardboard-generals from a war-theatre in which they proved to be hopelessly inadequate, Field Marshal the Honourable Kamla Persad-Bissessar, SC, VC, WC (don't ask me what these symbolise!), failed to see an ambush set by one of her own, the over-ambitious Private Warner.
In a year that held only ghastly memories for the region's only female Field Marshal, she would unwittingly trigger an unnecessary skirmish with Warner. After all, she did not discover that the man was less than copactic in 2013. Hell, from as far back as in November 1989, in that bizarre showdown at sunset that the Soca Warriors lost before kick-off, players and supporters smelt the stink.
By late April, sensing that he might be better off distancing himself from the UNC, Warner resigned and triggered a by-election in Chaguanas West that he could hardly lose. He knew that the UNC would unlikely select him as its candidate-hell, you lick your vomit once, twice…but thrice?
So he had his people in place, a party in the making, and even his favourite colour, green, cornered. When Jack hit the road early, he caught Kamla's jokey army flat-footed, marching completely out of step with constituents for whom Warner was not Rawan, but Rama. By election day, in late July, the UNC, like the Soca Warriors, had lost before the first ballot was counted.
Revelling in his routing of the ruling party, Private Warner, no general he, incapable of seeing the trees from the forest, inevitably went a bridge too far. Rather than consolidate his base in Chaguanas and secure fortifications around it, he ventured into battlefields afar that were of no strategic importance, which resulted in him spreading his forces too thin on the ground.
Hence, in the local government elections, he lost, big time. And once your troops are decimated in senseless battles that you did not need to fight, recovery and re-grouping is almost impossible. Which is what Private Warner faced in the aftermath, and why so many "gozay rats" and not-so-mighty mice deserted the sinking ship.
By year-end, the ILP was reduced to a firmament in Warner's imagination. And there it is destined to stay, debris among the scores of political wrecks that litter this tiny country's political environment. What a roller coaster year for Private Warner.
The UNC, and I single out the party since the other components of the Partnership seemed to have ceased, is little better off. Its demise is best characterised by its choice of candidate for the St Joseph by-election. When you shuffle a pack of cards and come up with a joker, then the joke is on you.
What is worse, the Field Marshal and her cardboard generals came out in force, state resources et al, to promote a joker.
After the hubris comes the fall, writer/journalist Marina Salandy-Brown warned UWI students at their graduation recently. I wish she would direct her lucid thoughts at those in power and those who seek power.
But to what end? They never listen, do they? Another year will pass and I will write the same thing and it will make no difference. I wish you all a healthy and rewarding 2014.