By Alexander Bruzual
December 03, 2013 – newsday.co.tt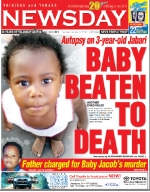 THE SLAUGHTER of the innocent continues.
For the third time in less than three weeks evidence has surfaced that a child has been beaten to death. The latest innocent baby to lose his life is three-year-old Jabari Hernandez of Carmichael Village, Coryal, East Trinidad.
Young Jabari died on Saturday afternoon after he was reportedly seen vomiting at his home. At the time, it was believed the child may have died from injuries sustained in a fall he reportedly suffered at home a week prior to his death.

However, preliminary results of an autopsy which started yesterday at the Forensic Science Centre, St James, by Forensic Pathologist Dr Hughvon des Vignes, revealed the three-year-old Jabari died as a result of blunt force trauma to his little body.
Forensic Science Centre sources told Newsday Dr des Vignes did not complete the autopsy yesterday and is expected to complete his examination of Jabari's body today which would include taking x-rays of Jabari's chest and head. Dr des Vignes, the source said, did file a report for the child's family that the youngster suffered severe injuries to his abdomen, resulting in severe internal trauma.
Full Article : newsday.co.tt