By Andre Bagoo and Clint Chan Tack
November 05, 2013 – newsday.co.tt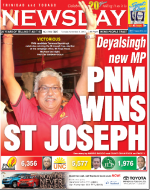 THE PEOPLE's National Movement (PNM) candidate Terrence Deyalsingh was last night declared the winner of the St Joseph bye-election, but only after the country was taken to a nail- biting finish for what was expected to be the last election in a historic year.
Deyalsingh's nearest rival was the United National Congress (UNC)'s Ian Alleyne who, at some points in the night, appeared in the lead. The Independent Liberal Party (ILP)'s Om Lalla managed the third largest share of votes but was not really in the contest.

Neither was the Democratic National Assembly's (DNA) Michael Lopez and independent candidate Errol Fabien.
Preliminary figures released by the Elections and Boundaries Commission last night in a press release indicated the PNM won 6,356 votes (about 45 per cent), the UNC 5,577 (39 percent) and the ILP 1,976 (14 percent). Though Lalla looked set to keep his deposit, the figures suggested the ILP's presence in the election race had more of an impact in terms of the splitting of votes.
Full Article : newsday.co.tt