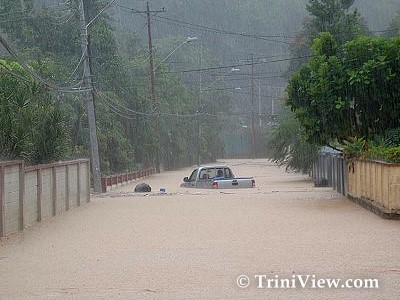 Wet and Muddy Maraval in pictures
December 22, 2008
Builders Warned
…Imbert knocks unscrupulous developers after Diego floods
Imbert suggests relocation
Works and Transport Minister Colm Imbert says the ultimate solution to the flooding that has been experienced by those who live close to river banks in flood prone areas may be to have them relocated.

Imbert: $30m to fix Diego Martin River
Even as he praised the Highways Division of his ministry for plugging a gaping hole of about 200 cubic metres on the Diego Martin Highway within 36 hours, Works and Transport Minister Colm Imbert said yesterday that about $30 million.
Hundreds trapped as hillside caves into road
Heavy rains brought a deluge of mud and slush into properties at Lachoos Road, Penal, on Saturday night, after a hillside, which was being excavated, caved in, blocking the entire roadway.
Landslides block roads in North
Motorists are being advised against using the Lady Young and Saddle Roads and parts of the North Coast Road which are being cleared of landslide debris, in the wake of recent heavy rains.
Slush, mud wreak havoc
Penal residents voice distress…
December 21, 2008
Diego Regional Corporation doesn't have resources
to deal with flooding, landslides…
'Save our homes'
Diego Martin resident Lisa Maraj is calling on Works and Transport Minister Colm Imbert, Diego Martin Regional Corporation chairman Lindon George and any other relevant authority to help her save her home and those of eight of her neighbours from collapsing into the Diego Martin River
Bad weather hits Santa Cruz
While residents of Diego Martin and Maraval breathed a sigh of relief yesterday, residents of Santa Cruz held their heads in frustration.
Minister of nothing works
Questions arising about the integrity and reliability of civil engineering projects carried out during Mr Imbert's tenure include failures as internationally humiliating as that of the Piarco runway repaving.
December 20, 2008
Muddy Xmas
6 children saved from raging flood waters in Tobago
Maraval left wet and muddy
FLOOD WATERS rose as high as five feet in some homes along Saddle Road in Maraval, as heavy rains throughout Thursday afternoon and night caused the Maraval River to burst its banks on two occasions.
Diego highway caves in
Torrential rainfall wreaked havoc in north west Trinidad on Thursday night, exactly one month after the deadly floods that devastated the same communities, but this time the extensive damage includes the cave-in of a section of the new multi-million dollar Diego Martin Highway.
41 landslides in North
BETWEEN Thursday and yesterday, at least 41 landslides were recorded in various parts of North Trinidad as heavy rainfall and subsequent flooding transformed solid earth into mudslides.
Clean-up crews out in full force as…
Heavy rains create havoc in North-West
Works Ministry crews were out early yesterday working on sections of the Diego Martin Highway which collapsed, as well as numerous landslides, debris and other problems washed down by Thursday night's continuous 12-hour rainfall, Works Minister Colm Imbert has said.
Widespread disruption of water supply
WASA plants go down
The Water and Sewerage Authority (WASA) hopes to restore the water supply today to several communities in north Trinidad after overnight rainfall on Thursday caused mechanical failures at several of its plants.
Disruption in Wasa service
Water production at several WASA surface water treatment in North Trinidad has been adversely affected as a result of torrential rainfall in the East-West Corridor over the past 24 hours, according to the authority.
Brace for more rain
Brace for more heavy rainfall and flash flooding this weekend, the Meteorological Office (Met Office) is advising in the aftermath of severe showers on Thursday night which caused havoc in North Trinidad.