By Susan Mohammed – March 26, 2013
www.trinidadexpress.com/news/Only-3-per–cent-of-cops–corrupt-200151191.html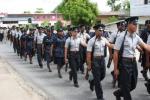 Acting Police Commissioner Stephen Williams said yesterday that no more than three per cent of the officers in the Police Service were crooked.
Speaking following a tour of the San Fernando Police Station where officers had protested poor working conditions, Williams responded to the Selwyn Ryan report which indicated that as much as 50 per cent of the Police Service was corrupt.
On Monday, Williams told reporters the figure used by Ryan was "crazy".

Yesterday, he said the true figure was less than three per cent.
He said his figure was based on "perception, based on some level of information and facts"
www.trinidadexpress.com/news/Only-3-per–cent-of-cops–corrupt-200151191.html