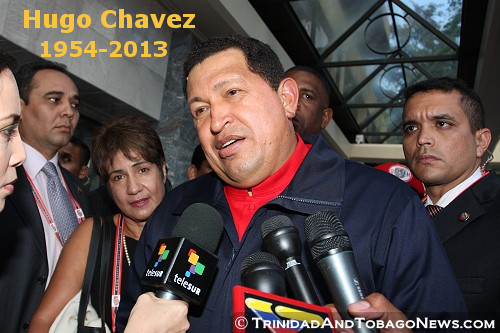 Hugo Chavez during The Fifth Summit of the Americas 2009 held in T&T
Trinicenter Reporters
March 05, 2013
Vice President of Venezuela Nicolas Maduro announced on Venezuela's television that Hugo Chavez passed away on Tuesday afternoon at around 4:25 p.m. after a two year battle with cancer. He was 58.
Since coming into power 14 years ago, Chavez embarked on a socialistic revolution that saw sweeping changes across Venezuela.

Riding on a wave of popularity from the poorer sections of Venezuelan society, from his inception Chavez quickly moved to challenge U.S. hegemony in the region, criticizing US imperialism, forging a close relationship with Fidel Castro and Cuba and inspiring a leftist movement across Latin American.
Domestically, he challenged the oil rich barons and elites who long dominated the political regimes in Venezuela as he redistributed land to the landless poor.
For his valiant efforts to redress the economic and social imbalances in the face of constant pressure to undermine the socialist revolution from both within and outside Venezuela, we at Trinicenter.com will remember him always.
Related: