By Nalinee Seelal
December 10, 2012 – newsday.co.tt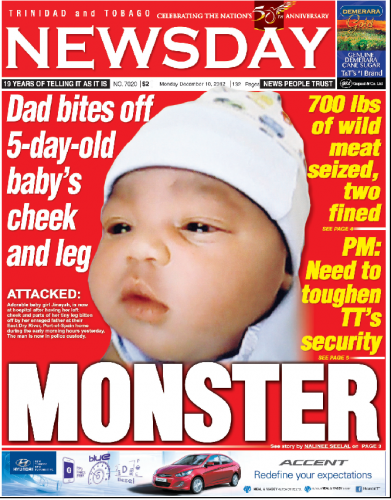 ENRAGED that there was no food in the house for him to eat, a 24-year-old man violently turned on his own five-day-old baby daughter, grabbing her tiny body and biting off the tender flesh from her left cheek before biting off a chunk of flesh from her right leg at their East Dry River, Port-of-Spain, home yesterday morning.
And while her father remains in police custody, the little baby girl who was given the name Jinayah only two days ago, is warded in a critical condition at the Paediatric Ward of the Eric Williams Medical Sciences Complex (EWMSC) in Mt Hope.

A mouthful of baby Jinayah's flesh was found on the floor by police but doctors have expressed doubt that it could be reattached to her body, telling police investigators that the baby will require plastic surgery on her face — if she survives.
Police said at two o'clock yesterday morning, the man arrived at his Smith Place, East Dry River, Port-of-Spain, home telling baby Jinayah's mother Tineka Henry, 22, that he was very hungry and asking, where was the food?
At the time, Henry was lying on a bed in the small apartment home with her baby daughter asleep on her (Henry) chest. The man, who is a technician at a local cable television company demanded food. He was told by Henry to go to the kitchen downstairs but when he did so, he came back to the bedroom in a rage saying there was nothing for him to eat.
The man, police reported, started to push Henry who protectively clutched at her baby daughter even as the man angrily shouted that he wanted his food.
What happened next shocked, astounded and galled even seasoned police officers.
Without warning, the man grabbed baby Jinayah — who had rolled off her mother's chest and on to the bed after all of the pushing — and with one big bite, ripped off a chunk of flesh from the baby's left cheek. As he started to chew, the baby's flesh fell from his mouth.
As blood spurted and the baby screamed, the man then reached for her right leg where he bit deeply into the fleshy part of baby Jinayah's leg. Baby Jinayah's screams and that of her mother, alerted her (Jinayah's aunt) Marcia Guy, who rushed upstairs only to see baby Jinayah's eyes wide open and the gum and jaw on the left side of her face exposed with the cheek bitten off.
"My belly dropped. I felt physical pain. I just grabbed the baby and ran downstairs while at the same time shouting for the neighbours to call the police," Guy later told Newsday. She said that she ran out of the house hugging baby Jinayah with the baby's father running after them. Guy said she was able to avoid capture and jumped in a car at Duke Street. She took the bleeding child, wrapped in a pink blanket to the Port-of-Spain General Hospital where doctors immediately began attending to her.
"All I kept saying as I held the baby in my hands, was 'Red Woman, Pinky, please stay alive, you cannot leave us now. You just came'," Guy said, as her eyes filled with tears. "Red Woman" and "pinky" are baby Jinayah's nicknames.
Guy said the doctors and nurses recoiled in horror when they saw the extent of the injuries the baby had suffered. Baby Jinayah was stabilised and transferred to the Paediatric Hospital at the EWMSC in Mt Hope.
Guy said while on the way to the EWMSC, she asked the ambulance driver to pick up the child's mother, but a party of police officers were already at the apartment home. Officers led by Ag ASP Ajith Persad and including Insp Nesbitt and Cpl Sankar arrived at the scene and a few hours after the horrific incident, arrested the suspect who is now detained at the Besson Street Police Station.
"What manner of man would do this to another human being, let alone a child and his own child at that? This is the worst that I have seen in all my long years as a policeman," stated a source who was among the officers who visited the scene yesterday.
Guy told Newsday she saw officers cringe when they discovered and removed a piece of Jinayah's flesh which was found on the floor of the bedroom. Guy said she has been left traumatised and is now praying for Jinayah to survive.
"Everybody at Smith Place loves Jinayah and although only a few days old, was already nicknamed 'Red Woman' and 'Pinky' because of her complexion. Neighbours too are in pain over what happened," Guy said.
When Newsday visited the scene yesterday, several neighbours were gathered looking on as police officers searched for clues at the crime scene.
Henry was at a neighbour's home being comforted. Though hesitant to speak, Henry said she is praying for her daughter to recover.
Asked to comment about what happened, Henry said all she wants to say is a plea, for members of the public to say a prayer that her daughter would recover.
Checks last night at the Eric Williams Medical Sciences Complex revealed that baby Jinayah's condition has improved but she will have to face the pain and trauma of plastic surgery if she is to have a normal life.
Police sources last night told Newsday if baby Jinayah survives, once investigations are completed, the man could face a number of criminal charges which could range from attempted murder to several other charges under the Children's Act Chap 46:01. Investigations are continuing.
http://www.newsday.co.tt/news/0,170389.html