By Andre Bagoo
December 06, 2012 – newsday.co.tt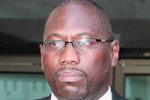 SIR ANTHONY Colman, chairman of the Commission of Inquiry into the collapse of Clico has described Director of Public Prosecutions (DPP) Roger Gaspard's application to halt the inquiry or make it private as being "misconceived", but said it is ultimately up to the Government to decide whether the inquiry should continue in light of a purported start of a police probe.

"The public interest in open investigation extends to the media as much as to the public enquiries set up for such purpose," Sir Anthony stated in a written ruling dated Tuesday December 4.
"The administration of criminal justice should normally be allowed to proceed notwithstanding prior adverse press comment unless a fair trial is impossible. So also should public enquiries proceed unless the risk that their future conduct will create fair trial prejudice is so great as to displace that public interest."
On Monday, attorney for the DPP Edward Jenkins QC, applied to have the media thrown out of the case as he made a secret application to have the inquiry – in its present form – stopped on the basis of the start of a police probe into the collapse of Clico.
Last month, the DPP issued a press release warning media houses to not report on the matter before the inquiry, citing the risk of contempt of court. Sir Anthony on Monday, in an oral ruling, declined the DPP's application.
In his written ruling, Sir Anthony says he has no doubt that the DPP's application as "misconceived".
"In the present case, there is no pending criminal trial," he says. "Nobody has been charged with any specific offence. Counsel for the DPP did not suggest that indictments could now be drafted and that charges were imminent. Nor was he able to say how long it would be before anybody would be charged. Nor could he predict when a criminal trial might start or when it might finish. However, I infer that the police investigation, having only recently commenced, it will be impossible to commence a substantial serious fraud trial in 2013 and unlikely that any such trial would last less than six to eight months. Nor do I find any circumstances so exceptional as to call for the suspension of the inquiry in the absence of abuse of process."
Sir Anthony continues, "In these circumstances, I have no doubt that, as matters now exist, the DPP's application is misconceived and that there is no basis in principle for me to stop the proceedings in the inquiry or to adopt most of the lesser courses urged by Mr Jenkins. I therefore decline to advise the President either to terminate the Inquiry or to amend the terms of reference. Certain individuals are so inextricably involved in all aspects of what went wrong with Clico and Hindu Credit Union that severance of facts of their conduct from the remainder of any report would be impossible and, if attempted, would produce a substantially useless report."
However, Sir Anthony acknowledges that the effect of the announcement of the start of a police probe would impact the inquiry.
"I do however, accept that individuals are entitled at all stages of this Inquiry, when they give evidence, to claim the privilege against self-incrimination," he states. "Some persons may be entitled to invoke this privilege for answers to particular questions or even for answers that they may give to all questions .
That is a matter for my decision in each case upon application. If they are answerable to a subpoena they must specifically invoke that privilege so that it can be considered and ruled upon by me. On this basis some individuals may be permitted to decline to answer any questions. They do so, at the risk of adverse inference."
He said it is now for the Government to decide the future of the inquiry, but strongly warned against suspension.
http://www.newsday.co.tt/news/0,170185.html