By Raffique Shah
Aug 05, 2012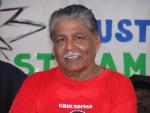 HALFWAY into the Games and it has been a mixed bag thus far. Oh, the performances all round have ranged from superb to sublime. Really, who could ask for better than what we have seen in the aquatic centre? Just to have witnessed the curtain come down in the career of possibly the greatest swimmer ever, Michael Phelps, was worth it. Bear in mind Phelps started these Games with the threat of Ryan Lochte looming large over his quest to become the most decorated swimmer.

Phelps did not disappoint. His 21-medals haul (up to yesterday morning) put him in a zone of his own, setting a record that may well stand for a very long time. Those of us who have been fortunate enough to have somehow followed the exploits of greats like Dawn Fraser, Mark Spitz and Ian Thorpe, to name a handful of swimming sensations, can bask in being part of history, if only as home-bound spectators.
And we ought not to feel "a how" about George Bovell failing to win a medal. By simply making the finals of the 50-metres freestyle, George has done his country proud. He can now exit the competition stage as the first Trinidadian to have won an Olympic swimming medal, and to have reached several finals, an aquatic achievement that is almost comparable to Hasely Crawford's career-run. Besides the exciting races in the pool, there were breathtaking moments in the synchronised diving competitions, absolute artistry in gymnastics, and so much more.
The one sour note in the Games has been local media coverage. Now, I should prefix my comments (you should read those on the 'blogs'!) by saying that, as someone with media experience, I am aware of the costs involved and the constraints imposed by the 'controllers'. In other words, you pay but you still cannot play (or tune into) what you feel like featuring. Still, our reporters and television anchors could be creative, more informed and sensitive to the expectations of their audiences.
On Friday last, prime focus was on Bovell, who swam at just after 3 p.m. By 2 p.m. TV6's Joel Villafana was ready for George, complete with replays of the swimmer's earlier performances and a guest commentator. I, too, wanted to see George swim. But I also expected TV6 to bring live coverage of the Women's 100 metres heats, which started just after two. We had three of our best sprinters in the event, and I wanted to see how they fared in the first round of competition. Almost too late I realised that Joel was not about to tune in to the heats or even keep viewers informed.
Fortunately for me, I have zeroed in on an online live stream of the events, which I hastily resorted when I realised that TV6 would not carry the heats—at least, not live. By the time I tuned in, Kelly-Ann Baptiste had won Heat 1 and Michelle Lee Ahyee had qualified in her heat. I saw the others live, including a gutsy performance by Semoy Hackett, who raced favourite Shelly-Ann Fraser to finish second. All three Trini girls made it to the semi-finals, maybe for the first time ever. By the time this column is published, the women's 100-metres final will be history, hopefully favouring us with one or two superb performances if not medals. Oh, and I did watch George swim as well, minutes after the heats.
My point is this: we all wanted to see George swim. But I am sure there were many like me who also wanted to see our girls run.
There is another reason why those heats were important for us: they give us an idea as to where we stand with respect to the 4 x 100 metres relay. Clearly, teams USA and Jamaica are odds-on favourites for gold and silver.
Although our girls are ranked lower (in the relay), we were the only country other than those two powerhouses to secure three semi-final places. Nigeria had two, and all others, the Bahamas and Britain included, had one. Surely, that bodes well for our chances in the relay, meaning that we stand a good chance of being among the medals.
By the time this column appears in print, the Men's 100-metres would be closer to a conclusion. The heats were hot (surely an oxymoron), with the usual 'suspects' putting on a good show. At this point, there seems to be two lane vacancies in the final, the USA and Jamaica having thrown down the gauntlet in a most emphatic fashion yesterday. We can only hope that tiny T&T fills one or both of them.
Although sprinting is our strength, it is not the only area of interest to athletics fans. Last Friday, too, after watching our girls and George perform, I went on my treadmill and counted metres (shameful, Shah!) as Ethiopian sensation Tirunesh Dibaba and her talented teammates went for glory in the 10,000 metres. What excitement as the Kenyan duo split Ethiopia, but with Dibaba successfully defending her title.
As we enter the decisive week of the Games, I beseech my friends at TV6 to try to improve on their coverage, to better highlight our athletes even as they focus on events that are of wider interest. Note that the new stadium was filled to capacity on the first day of track and field. That tells the true story of what the Olympics are about, what sports fans relish. Let us not kill the spirit with the level of television coverage.
Editor's note: TV6 has access to five broadcast feeds from the Olympic Broadcasting Services in London. TV6 has no input or control over what Olympic sporting disciplines are selected on any channel. The station's aim is to get as much coverage of as many events as possible to cater to a wide cross-section of interests. TV6 continues to broadcast London 2012 Olympic events live as much as possible for its viewers.