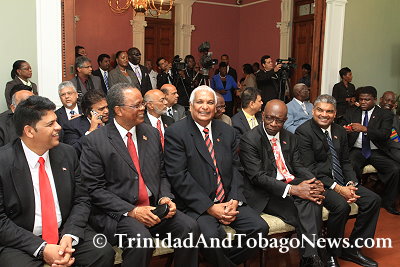 Swearing-In of Cabinet Ministers and Government Senators
New Cabinet to strengthen Government
Government's parliamentary team has been strengthened with the appointment of veteran politician Ganga Singh as Senate leader, replacing Emmanuel George.

Size Does Not Matter
PM defends T&T's largest-ever Cabinet
PM: No jobs for 'warm bodies'
PRIME MINISTER Kamla Persad-Bissessar yesterday said declared ministerial portfolios were not created in last week's Cabinet reshuffle simply to create jobs for members of the People's Partnership (PP) Government.
Cabinet reshuffle: 5 new ministers sworn in
FIVE new ministers of Government took their oaths of office at a swearing-in ceremony at Knowsley building, Queen's Park West, Port of Spain yesterday.
Welcome for four new senators
The PP administration's four new Senators received a warm welcome from senators on all sides in the Upper House yesterday when they took up their positions during yesterday's sitting.
THA calls for record $4.2b budget
THE TOBAGO House of Assembly is seeking a whopping $4.2 billion, the largest-ever budget request, to manage its affairs for the next fiscal year.
Jack to launch attack on 'urban warfare'
New National Security Minister Jack Warner says he is to launch an immediate "frontal attack" against "urban warfare."
Flying Squad may return
NATIONAL Security Minister Jack Warner yesterday hinted that the much feared police "Flying Squad" of yesteryear could be recreated in order to curb high levels of murders and serious crime under control.
We will take T&T back, says Jack
…murder rate must come down
Mystar: We expect action
This was the response given yesterday by public information officer of the Police Service Sgt Wayne Mystar when asked what the service was expecting from newly-appointed Minster of National Security Jack Warner.
Enforce Anti-Gang Act
ATTORNEY General Anand Ramlogan yesterday criticised the police service on the issue of its enforcement of anti-gang legislation.
Ganga Singh is Govt whip in Senate
ON HIS first day as a Cabinet Minister and just minutes after taking the oath as a Government Senator yesterday, Ganga Singh sat in the first seat on the Government benches in the Senate, assuming duties as Leader of Government Business in the Senate.
Tobago PNM welcomes Baker
THE Tobago Council of the People's National Movement (PNM) has congratulated Tobago West MP Dr Delmon Baker on his promotion from Minister in the Finance Ministry to Minister with responsibility for Tobago's development.
Everybody loves Larry
NEWLY appointed Finance and Economy Minister Larry Howai is proving to be extremely popular with his Cabinet colleagues, even before he has had time to meet his ministerial staff.
Govt's spending worries Al-Rawi
Opposition Senator Faris Al-Rawi yesterday called on new Finance Minister Larry Howai to explain where the half billion in revenue was coming from that would pay for the restoration of the Red House and the construction of a proposed block nearby.
Water first order of business
New Public Utilities Minister Nizam Baksh